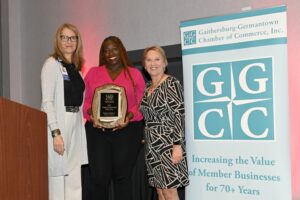 Gaithersburg /Germantown, MD (December 16, 2021) – The Gaithersburg-Germantown Chamber (GGCC) awarded Upcounty Community Resources (UCR) as the recipient of the 15th Annual Small Business of the Year Award (SBY) on December 9, 2021, as a part of their Annual Celebration Dinner & Awards Ceremony. The award was presented to UCR Executive Director Jenn Lynn by AJ Nwoga with M&T Bank.
"We are honored to give this award to Upcounty Community Resources," said Marilyn Balcombe, GGCC President / CEO. "They are a great asset in our community."
The Small Business of the Year Award recognizes small businesses, which are a vital part of our economy and community. The award is presented to the small business that demonstrates success, community involvement, and excellent customer relations.
The Upcounty Community Resources was founded by a group of parents trying to find inclusive and enriching activities for their adult children with disabilities. These parents recognized the need for continued education and skills practice after the children completed their education. Seven years later UCR is serving five hundred families in our community.
The UCR programs teach employment, independent living, social & emotional skills practice in large and small groups, provides therapeutic art & music programming, as well as three respite      programs. They boast a professional rock band, entrepreneurs, young professionals, talented artists, and advocates among their membership. They are proud to serve people who want to succeed through a variety of disabilities and meet them where they are and build on their gifts.
Community involvement & relationship building is important to UCR. Since the majority of the UCR programming happens within the community, UCR needs to ensure that their members are welcomed in their neighborhoods and businesses. By forging relationships with local businesses, working within their establishments, mutually beneficial bonds form.
Part of the success of UCR is the ability to offer programs to their members for low to no cost. Scholarships are awarded every semester, and no one is left out of the program due to their inability to pay. They take their  job of enriching the lives of the Upcounty's most vulnerable residents very seriously. They fiercely protect their participants, advocate for their needs on all levels of local, state, and national efforts. They are much more than a 'small business,' they are a  family.
The GGCC is active in providing business-to-business networking opportunities throughout the year: a collective voice in local, regional, and state legislative affairs, professional development opportunities and other services that enhance the business environment. 
The GGCC is located at 910 Clopper Road, Suite 205N, Gaithersburg, MD. To learn more about the GGCC visit us at www.ggchamber.org. Find us! Facebook: https://bit.ly/2NmNSpC | Twitter: @GGCCNEWS | Instagram: gburggermantownchamber