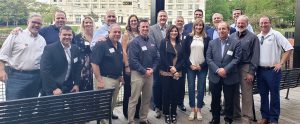 Direct Connect is a GGCC program that strategically connects members in smaller groups. Each group has its own unique personality where members act as strategic partners helping the group to develop and grow each other's businesses though information sharing, referrals, and personal contact. Direct Connect Groups are run by GGCC members, rather than Chamber staff, and employ an informal structure, meetings time and location that is conducive to that specific group.
If you are interested in learning more about our Direct Connect Groups, please reach out to us at info@ggchamber.org or (301) 840-1400.
NAME / FOCUS
LEADERSHIP
MEETING TIME
DEFINING QUALIFICATION
B2B / B2B Roundtable
Exclusive industry
B2B Referral Sharing
Ed Samuels, Auxilium Technology ed.samuels@auxiliumtechnology.com
8:30-9:30 AM Every other Tuesday
Exclusive industry
RECN (Real Estate and Construction)
Jerry Therrien, Retired TW Construction
jerryt20324@gmail.com

7:30-9 AM Every other Wednesday
Exclusive industry within the commercial real estate or construction realm. Member must be in a leadership position
GGCC MasterMind
Steve Barber, Supporting Strategies sbarber@supportingstrategies.com
7:30-9 AM 1st & 3rd Tuesday of each month
Exclusive industry
Young Professionals Group
Eric Ashmont eric.ashmont@edwardjones.com
Varies – check the GGCC calendar for events
Member must be 21-40 in age
SOHO (Small Office – Home Office)
Michele Feurer, Balanced Books Accounting Services
michele@bb-accounting.com
9-10 AM 2nd Wednesday of each month
Member must work for themselves, from home or in a small office
Nonprofit Group
Stephen McDow, BlackRock Center for the Arts
smcdow@blackrockcenter.org
2nd Monday of each month at 9am. Alternate zoom/inperson.
Members must be nonprofit organizations, or work directly with nonprofit organizations in support of their mission.
Pathways Women Group
Philippa Channer, Channer Consulting – philippa@channer-consulting.com

Kari Primozic, Courageous Living – info@kariprimozic.com
8:30-10 am 3rd Friday of each month
Member must Identify as female, and have a business that is 5 years or younger.
Well+Being Promoting vitality and resilience
Jane Smith, Jane O. Smith LLC
Coming in 2023 – more information to come!