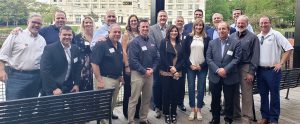 Direct Connect is a Gaithersburg-Germantown Chamber program that strategically connects members in smaller groups. Each group has its own unique personality where members act as strategic partners helping the group to develop and grow each other's businesses though information sharing, referrals, and personal contact. Direct Connect Groups are run by GGCC members, rather than Chamber staff, and employ an informal structure, meeting time and location that is conducive to that specific group. To best promote members, one representative per business category or industry is allowed, per circle.
*All groups are meeting virtually currently.
If you are interested in learning more about our Direct Connect Groups, please reach out to us at info@ggchamber.org or (301) 840-1400.