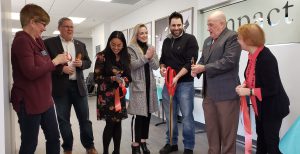 As a celebration of growth in the Upcounty business community, the Chamber conducts, upon request, ribbon cutting ceremonies for member businesses opening, expanding, moving to a new location, or celebrating important milestones.
Ribbon cutting events hosted in partnership with the GGCC include a GGCC calendar post, social event posts, invitations to local elected officials and business leaders, who will often bring official citations or proclamations to present to the business, supplies such as giant scissors and the wide red ribbon, event facilitation, and social posts congratulating the business after the event with photos.  Additional services, such as decorations, entertainment, and catering can be arranged with member businesses.
Contact the Chamber to schedule your event: info@ggchamber.org or 301.840.1400.