The Chamber is proud of its Montgomery College Scholarship Program. Our local economy relies on an educated workforce. In addition to funding current scholarships, the Chamber has established an endowment for future giving. The endowment will ensure that the Chamber continues to support Montgomery College in perpetuity.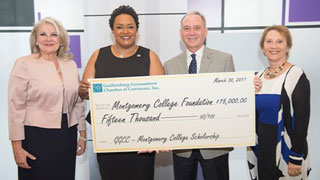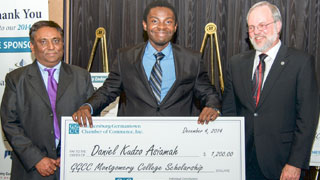 Quick Facts:
Chamber has raised $300k+ for current use scholarships since 2001.
Chamber has $125k+ endowment, established an endowment for future giving.
Committed to Workforce Development – Investing in Montgomery College students.
74 students, including those majoring in pre-engineering and business, and some for sequential years, have been able to pursue their educational dreams.
In 2012, the GGCC was inducted into the Montgomery College's 1946 Society for its total contribution of $100,000 to the Montgomery College Scholarship Foundation.
Why Do We Contribute?
If we want to see a thriving, growing economy, we need an educated, skilled workforce. We need students ready to come into the workforce and make a contribution to our economy and to our community.
Want to Invest in the Future of Tomorrow? Here's How You Can Help.
The GGCC scholarship committee is chaired by GGCC Past Board Chair & Hughes Network Systems Vice President Jim Muir. Muir manages donations yearly from Chamber Members and GGCC Past Chairs who step up every year and make individual and in some cases personal donations.
Please consider supporting our mission and improving the lives of students – and their families – in our community by providing them with access to a quality education/job training.
Invest in the Future of Tomorrow
To make a donation towards the "GGCC – Montgomery College Scholarship Foundation", visit the Montgomery College Foundation website. When prompted for the fund you would like to contribute towards, please select "Other" and write in GGCC – Endowment.
Or you can send monetary donations made payable to the Montgomery College Foundation. Indicate the funds are for the GGCC Endowment Fund. Mail to: GGCC, 910 Clopper Road, Suite 205N, Gaithersburg, MD 20878.
Thank you for helping us support & prepare the workforce of tomorrow.