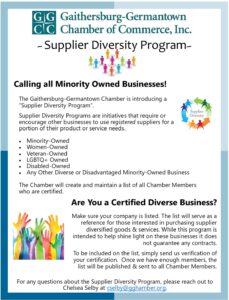 The GGCC's Supplier Diversity Program has created a list of Chamber Members which are certified as a diverse business, or which have self-selected as a diverse business. The lists serve as a reference to members and non-members who are trying to be more intentional about supplier diversity when purchasing goods and services. While this program is intended to help shine light on these businesses it does not guarantee any contracts.
Our members can now include information in their online GGCC member profile to designate their business in the following categories:
Certified Minority-Owned, Woman-Owned, Veteran-Owned, LGBTQ+ Owned, and/or Disabled-Owned business
Approved MoCo LSBRP business
AAPI-Owned business
Black-owned business
Hispanic-owned business
Indigenous American-owned business
Minority-owned business
Woman-owned business
Anyone can find these business lists on the GGCC Online Directory by clicking "Other Listings."
To be included on the certified lists or LSBRP, simply send us verification of your certification through any of the below organizations to info@ggchamber.org. If you are a minority-owned business, but not certified, in most cases, it is free do so. Visit the below links for more information.
State of Maryland:
The Maryland Department of Transportation is the State's official agency to seek certification for the following:
Minority Business Enterprise (MBE)
Disadvantaged Business Enterprise (DBE)
National Certifying Agencies:
For any questions about the Supplier Diversity Program, please reach us at info@gghamber.org.