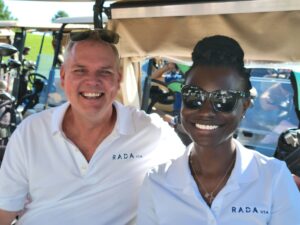 Grow your business while golfing and networking at our annual GGCC Business Golf Classic. Held in the fall, this tournament is intended to offer enjoyable golf and the opportunity to network. Meet business owners, representatives, and supporters of business as you complete your round. Incredible prizes, golf contests, food, and drinks await you on this unique golf experience.  A portion of the proceeds from contests and raffles at the Business Golf Classic supports the GGCC's scholarship programs at Montgomery College.
The 2023 GGCC Business Golf Classic is a scramble format, and will be held on October 3, 2023 at Worthington Manor Golf Club. Golfer registration will include a hearty breakfast buffet with a bloody mary/mimosa bar before the shotgun start, snacks, an open beverage/snack cart on the course with beer, seltzer, and nonalcoholic options, a BBQ buffet lunch with one bar beverage after play, take-home gifts, prizes for the top 3 foursomes, and great networking! Additional contest opportunities and mulligans, strings, and other fun items will be available for purchase at registration and on the course. Proceeds support the Chamber's MC scholarships and community engagement work. This will not be an event to be missed!
Register and reserve your sponsorship here. 
Sponsorship Opportunities are as follows:
 
Investment
Foursome
Marketing Benefits
Other Recognition
2023 Sponsors
Title Sponsorship SOLD 
4500

Yes

Top billing, including logo and link where possible, on all marketing including website, press releases, email blasts, social media, event signage including scorecards & banner, and. Top billing on course guide.

Signage/table/ tent at the putting contest at the turn, award the putting contest winner.

Major gift sponsors

(2) available:

2000 ea

Yes

Sponsor the major gift to all of the golfers. Past items have included golf umbrellas, insulated coffee/water bottles, stadium chairs, stadium blankets.

Logo and link where possible, on all marketing including website, press releases, email blasts, social media, event banner, course guide.

Lunch Sponsor
3000

Yes

BBQ buffet lunch sponsor.

Logo and link where possible, on all marketing including website, press releases, email blasts, social media, event banner, course guide.

Breakfast Sponsor
2300

Yes

Traditional breakfast buffet sponsor.

Logo and link where possible, on all marketing including website, press releases, email blasts, social media, event banner, course guide.

Beverage Cart Sponsor (2)

1500 (ea)

2900 (both carts)

Yes if sponsor both bevvie carts.

Open Bevvie carts on course with beers, hard seltzer, water, Gatorade, snacks.

Logo and link where possible, on all marketing including website, press releases, email blasts, social media, event banner, course guide. Signage on carts.

Bloody Mary /Mimosa Sponsor
1200

Yes

Bloody Mary/ Mismosa Bar at Breakfast before shotgun.

Logo and link where possible, on all marketing including website, press releases, email blasts, social media, event banner.  Signage at bar.

Award Sponsor
2000

Yes

Logo and link where possible, on all marketing including website, press releases, email blasts, social media, event banner

Driving Range Sponsor
500

No

Sign at the range. Name on all marketing including website, press releases, email blasts, social media, event banner

Contest Sponsor: Putt A Rama
500

No

Sign at the putt-a-rama before shotgun. Name on all marketing including website, press releases, email blasts, social media, event banner

Closet to the Pin Hole Sponsors:

Par 3 Hole #6

250

No

Sign at the tee, logo pops up on the cart GPS as cart approaches hole, logo in course guide.

Present award to winner at awards ceremony. 

PAUL DAVIS RESTORATION AND REMODELING

Closet to the Pin Hole Sponsors:

Par 3 Hole #8

250

No

Sign at the tee, logo pops up on the cart GPS as cart approaches hole, logo in course guide.

Present award to winner at awards ceremony. 

ELLIS-LOPEZ TRAVEL PARTNERS

Hole in One Sponsor:

Par 3 Hole #17

Car dealership partnership

No

Sign at the tee, logo pops up on the cart GPS as cart approaches hole, logo in course guide.

 

Logo and link where possible, on all marketing including website, press releases, email blasts, social media, event banner, course guide. 

Present at awards ceremony. 

Car display at hole 17. Optional marketing tent/table at tee 17.

Beat the Pro Hole Sponsor Par 3 #15
250

No

Sign at the tee, logo pops up on the cart GPS as cart approaches hole, logo in course guide.

Present award to winner at awards ceremony. 

Optional representative/marketing display to talk with golfers at tee 15.

DEMBO JONES P.C.

Mens Long Drive Hole Sponsor

Par 5 Hole #9

200

No

Sign at the tee, logo pops up on the cart GPS as cart approaches hole, logo in course guide.

Present award to winner at awards ceremony. 

DEXIAN

Womens Long Drive Hole Sponsor

Par 4 #16

200

No

Sign at the tee, logo pops up on the cart GPS as cart approaches hole, logo in course guide.

Present award to winner at awards ceremony. 

REDFIN REAL ESTATE – RELEFORD

Hole Sponsors (12)
100

No

Sign at the tee.

(extra $50 option for logo to pop up on the cart GPS as cart approaches hole)

RIO LAKEFRONT

NYMEO FEDERAL CREDIT UNION

BUCH CONSTRUCTION

GAITHERSBURG CPAs (2)

MONTGOMERY COLLEGE (2)

PAY IT FORWARD PROCESSING

PROUDLY GIVE

ENNIS LEGACY PARTNERS

AMI SIGNS

EDWARD JONES – ERIC ASHMONT

Logo-branded golf balls
800

No

Your logo on golf balls provided to each golfer.

2023 Sponsors listed here:

Logo-branded cigars
1100

No

Your logo on a sealed cigar in a tube provided to each golfer.

ENNIS LEGACY PARTNERS
Gift bag sponsor
400

No

Your logo on one side of the resusable shopping bags provided to each golfer for swag and golfer gifts.

UNIVERSITIES AT SHADY GROVE

Gift sponsor
Provide 100 golfer gifts to be put in the gift bags

No

Items like golf towels, office gifts, branded promotional swag items.

Name on the website and in course guide.

2023 Sponsors listed here:

UNIVERSITIES AT SHADY GROVE

SUPPORTING STRATEGIES

FIRST NATIONAL BANK

SHEMITRANS

THE FOUNDATION SCHOOLS

REMAX REALTY GROUP – ROSENFELD

THE LOGO SHACK

MOE'S SOUTHWEST GRILL

CHICK-FIL-A GAITHERSBURG

MARYLAND SPINE & HEALTH CHIROPRACTIC

GREEN DROP CHARITABLE CONTRIBUTIONS

THE LITTLE GYM OF GAITHERSBURG

INTEGRATED SPORT SPINE & REHAB

Signage Sponsor SOLD – AMI Signs
Provide tee signs, sponsor signs, and banner for event

Ind. golfer

Logo and link where possible, on all marketing including website, press releases, email blasts, social media, event banner, course guide.

Printing Sponsor
Provide printing for course guidebook

Ind. golfer

Logo and link where possible, on all marketing including website, press releases, email blasts, social media, event banner, course guide.

Snack Sponsor (4)
350 (ea)

No

Snacks for cart bags – (examples) granola bars, bananas, apples, beef jerky, etc.

Logo on reusable cart snack bag.

CRUISE PLANNERS

LEONARDO DRS

THE BRANDED COMPANY

CITY OF GAITHERSBURG

2nd Chance Raffle Prizes!
Provide a prize for our 50/50 2nd-chance drawings! 

No

A great way to highlight your business to all of the attendees at the awards ceremony! 

RANDY SCRITCHFIELD & ASSOCIATES

REDFIN REAL ESTATE – RELEFORD

MOYER & SONS MOVING & STORAGE

ENNIS LEGACY PARTNERS

FIRST NATIONAL BANK
Awards:
Team Awards (1, 2, 3) – team trophy, top foursome also gets free round of golf for each player
Long Drive (men, women)
Closest to the Pin (two holes)
Putting Contest
Purchase on the Course:
Putt-A-Rama – $10 (winner gets 20 tickets to the 50/50 raffle)
Beat the Pro – $20 per group. Proceeds benefit the GGCC's MC Scholarship Fund.
Mulligans/toss for the foursome – 2 for $10 or 5 for $20. Proceeds benefit the GGCC's MC Scholarship Fund.
Strings – $20 – use twice. Proceeds benefit the GGCC's MC Scholarship Fund.
50/50 Raffle – $5ea or 5 for $20. Proceeds benefit the GGCC's MC Scholarship Fund and GGCC programs; 2nd chance winners get chances for other donated raffle prizes including free rounds of golf