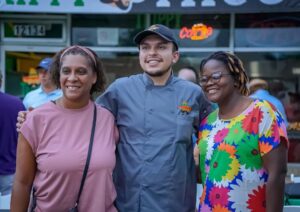 Gaithersburg, MD (July 13, 2022) –Trippy Tacos, LLC joined the Gaithersburg-Germantown Chamber of Commerce (GGCC) earlier this year through the Chamber's Pathway's program, a grant program designed to support women and minority entrepreneurs. When Trippy Tacos owner Chris Robles joined in January, his business was a food truck operation. After taking a short hiatus, he has successfully launched a brick & mortar location in Silver Spring.
The GGCC conducted a ribbon cutting ceremony & joined Trippy Tacos at their celebration & grand opening of their restaurant on July 6, 2022. They are located at 12134 Georgia Avenue in Silver Spring.
Trippy Tacos specializes in making fresh corn tortillas, tacos, burritos, quesadillas, tortas, nachos, fries, mulitas, pupusa pizza, breakfast, and more. Their food truck is still available for private events and catering needs. You can follow them on Facebook at @Trippytacos240.
The GGCC is active in providing business-to-business networking opportunities throughout the year: a collective voice in local, regional, and state legislative affairs, professional development opportunities and other services that enhance the business environment. 
The GGCC is located at 910 Clopper Road, Suite 205N, Gaithersburg, MD. To learn more about the GGCC visit us at www.ggchamber.org. Find us! Facebook: https://bit.ly/2NmNSpC | Twitter: @GGCCNEWS | Instagram: gburggermantownchamber