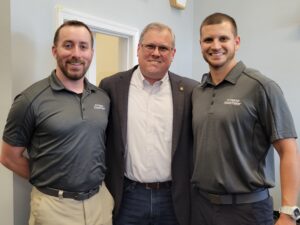 Gaithersburg, MD (August 9, 2022) –The Gaithersburg-Germantown Chamber of Commerce (GGCC) was delighted to celebrate Fitness Together and conducted their ribbon cutting ceremony & grand opening celebration on August 5, 2022. They are located at 12189 Darnestown Road in Gaithersburg.
At Fitness Together, they conduct private 1:1 training sessions for clients in their private training suites. Experienced personal trainers create custom programming for goals around weight loss, weight management, building muscle and injury recovery. They combine strength and cardio, result tracking, real-time adjustments, and ongoing support. Learn more about them at www.fitnesstogether.com/gaithersburg.
The GGCC is active in providing business-to-business networking opportunities throughout the year: a collective voice in local, regional, and state legislative affairs, professional development opportunities and other services that enhance the business environment. 
The GGCC is located at 910 Clopper Road, Suite 205N, Gaithersburg, MD. To learn more about the GGCC visit us at www.ggchamber.org. Find us! Facebook: https://bit.ly/2NmNSpC | Twitter: @GGCCNEWS | Instagram: gburggermantownchamber