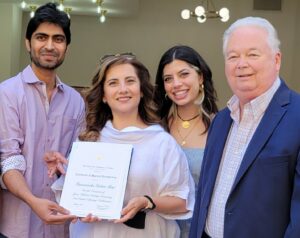 Gaithersburg, MD (May 24, 2021) – The ultimate dessert experience is now available to you at Fantasticks Gelato Bar.
The Gaithersburg-Germantown Chamber of Commerce (GGCC) conducted a ribbon cutting ceremony & joined Fantasticks Gelato Bar Stellar Living to celebrate their grand opening on May 21, 2021. They are located 215 Boardwalk Place in Gaithersburg. 
"This was one of our sweetest ribbon cuttings" said Marilyn Balcombe, GGCC president. "Fantasticks is a great addition to the neighborhood. We commend them for their perseverance through a very difficult time and so glad they are finally open."
Creamy, cool deliciousness awaits you right here in Gaithersburg. Gelato is lighter than ice cream since they use milk instead of cream. Batches are homemade every day & their flavors are inspired by the owner's world travels. Fantasticks Gelato Bar has artisan custom pops & gelato, learn more at www.fantasticksgelato.com. 
The GGCC is active in providing business-to-business networking opportunities throughout the year: a collective voice in local, regional, and state legislative affairs, professional development opportunities and other services that enhance the business environment. 
The GGCC is located at 910 Clopper Road, Suite 205N, Gaithersburg, MD. To learn more about the GGCC visit us at www.ggchamber.org. Find us! Facebook: https://bit.ly/2NmNSpC | Twitter: @GGCCNEWS | Instagram: gburggermantownchamber