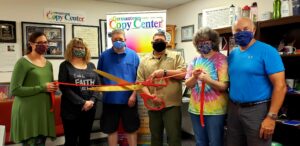 Gaithersburg /Germantown, MD (October 14, 2020) – When a business holds a ribbon cutting ceremony, it's a time for owners, employees, the public, and the business community to celebrate the hope and prosperity that increased commerce represents.
That is the idea behind "BACK TO BUSINESS & BETTER", the Gaithersburg-Germantown Chamber of Commerce (GGCC) hosted 83 ribbon cuttings at businesses across the Upcounty. The Chamber team sprinted from business to business with a large pair of red scissors across the Upcounty to celebrate business.
The ribbon cuttings are a symbol of hope, prosperity and opportunity for a better & stronger tomorrow – all of which are needed now. It was a unique way for the Chamber to say thank you to Upcounty businesses that are open and ready to serve.
"It was great to go out and celebrate our business community," said Marilyn Balcombe, GGCC President/CEO. "We really need to support our local businesses. If we want them to be open after the pandemic is over, we need to support them now."
Chamber Members are the lifeline of the GGCC. Creating public awareness for Upcounty businesses is instrumental in showing the value they provide for our entire community.
As our community works toward reopening and recovery, the Chamber team is committed to helping businesses celebrate their reopening as safely and responsibly as possible. Each ribbon cutting involved only business owners, along with the Chamber staff; and were conducted following County & State regulations. 
View the Back to Business & Better videos:
A directory of current GGCC Members can be viewed at: https://bit.ly/3iQvHsg. For more information on the GGCC visit www.ggchamber.org
The GGCC is active in providing business-to-business networking opportunities throughout the year: a collective voice in local, regional, and state legislative affairs, professional development opportunities and other services that enhance the business environment. 
The GGCC is located at 910 Clopper Road, Suite 205N, Gaithersburg, MD. To learn more about the GGCC visit us at www.ggchamber.org. Find us! Facebook: https://bit.ly/2NmNSpC | Twitter: @GGCCNEWS | Instagram: gburggermantownchamber