Germantown, MD (November 22, 2019) –Darnestown Smiles has officially opened its doors & they are excited to be a part of the community.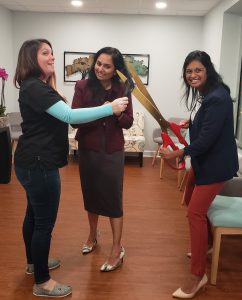 The Gaithersburg-Germantown Chamber of Commerce (GGCC) conducted a ribbon cutting ceremony & joined Darnestown Smiles to celebrate the grand opening of their dental office located at 14128 Darnestown Road, Germantown.
They are a brand-new dental practice, excited to join the Darnestown, Poolesville, Gaithersburg, and Germantown communities to offer high quality dental care to individuals of all ages. Dr. Sridevi Yellepeddy & her team are committed to providing the finest care using effective treatment protocols, superior dental materials, and proven dental techniques and diagnostic technology. Darnestown Smiles provides cosmetic dentistry, pediatric dentistry, preventative care, periodontal health restorative procedures, & extractions/dentures. Lean more about them at: darnestownsmiles.com.
The GGCC is active in providing business-to-business networking opportunities throughout the year: a collective voice in local, regional, and state legislative affairs, professional development opportunities and other services that enhance the business environment.
The GGCC is located at 910 Clopper Road, Suite 205N, Gaithersburg, MD. To learn more about the GGCC visit us at www.ggchamber.org. Find us! Facebook: https://bit.ly/2NmNSpC | Twitter: @GGCCNEWS | Instagram: gburggermantownchamber