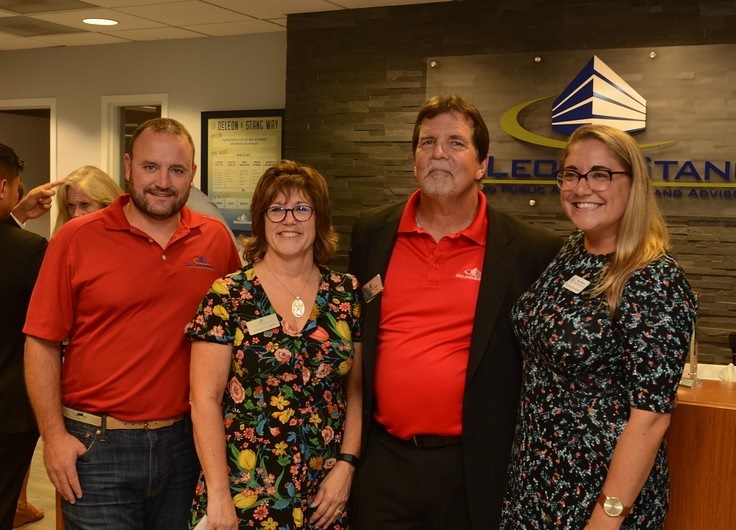 Gaithersburg /Germantown, MD (October 4, 2018) – The leaves are changing, it's starting to get a little cooler, but at the Gaithersburg-Germantown Chamber of Commerce (GGCC) we are turning up the heat and just getting started with events this fall for everyone.
We kicked off October with a Fall networking mingle at DeLeon & Stang, CPAs & Advisors, located at 100 Lakeforest Boulevard, Suite 650, Gaithersburg, MD, on October 3, 2018.
To mark the occasion, DeLeon & Stang had donation boxes around the office – and made a matching donation to – for The Dick and Jody Vilardo Foundation, which supports the Children's Inn at NIH. The foundation inspires individuals and organizations to give back to their communities. The Dick and Jody Vilardo Foundation was created in the Fall of 2015 by the Vilardo family, to celebrate the lives of Dick and Jody Vilardo and their contribution of giving back to the community. Jody Vilardo and her husband, Richard Vilardo, were found stabbed to death at their Rockville, Maryland, home on Mother's Day 2015. The foundation was formed to honor their memory.
DeLeon & Stang is an accounting firm providing accounting, tax, audit, advisory, and financial services to individuals and businesses. Their footprint in the Mid-Atlantic region spans more than 30 years. But with growth, comes change. Recently, the DeLeon & Stang team renovated their office, conference rooms, and added a game room equipped with massage chairs, Wii, a foosball table and more. They also rebranded to include their new "The D&S Way!", which includes a commitment to putting their people first, embracing technology, understanding their client & industry needs, exceeding expectations, and improving continuously.
At the GGCC, we are also improving continuously; as we continue to provide high-quality events; be a legislative voice & advocate on behalf of our Members; and be a resource for your business success.
Explore monthly Chamber networkingevents to expand your business contacts. October is chock full of events to accommodate everyone's schedule. Just this month alone, the Chamber has a morning mixer, a networking lunch, five ribbon cutting ceremonies, a young professional group social, a leadership seminar featuring Scott Alexander, author of "Lead Like a Black Belt"; and its very popular AutumnFest, sponsored by twenty-member businesses comprising the Chamber's Real Estate & Construction Network group. Discover us at www.ggchamber.org.
The GGCC is active in providing business-to-business networking opportunities throughout the year: a collective voice in local, regional, and state legislative affairs, professional development opportunities and other services that enhance the business environment. We are located at 910 Clopper Road, Suite 205N, Gaithersburg, MD. To learn more about the GGCC visit us at www.ggchamber.org. Find us on Facebook at: https://bit.ly/2NmNSpC. On Twitter at @GGCCNEWS. On Instagram at gburggermantownchamber.