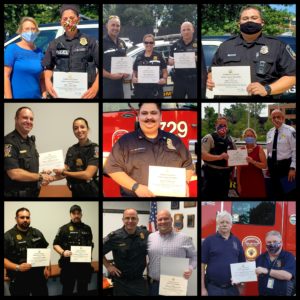 Gaithersburg /Germantown, MD (August 28, 2020) – Twenty-five years of honoring the Upcounty's finest continued despite the coronavirus pandemic. The Gaithersburg-Germantown Chamber of Commerce (GGCC) honored twenty-one Upcounty Police Officers, Firefighters, and Paramedics at their 25th Annual Public Safety Awards on Friday, August 28, 2020
This event honors our public safety personnel and first responders from Montgomery County Upcounty's fire & police departments, and Office of the Sheriff, who have exemplified extraordinary heroic actions and exceptional performance of their duties.
"Honoring our first responders is one of the most important things the Chamber does each year," said Marilyn Balcombe, GGCC president. "Even though we could not meet in person, we didn't want to miss the opportunity to personally thank the brave men and women who protect us every day."
The event was a pre-produced program filmed via Zoom in conjunction with its media partner Montgomery Community Media and broadcasted on the Chamber's YouTube channel.
This year we recognized public safety officials from the City of Gaithersburg Police Department, Montgomery County Police 5th & 6th Districts, Montgomery County Fire & Rescue Services, Gaithersburg-Washington Grove Volunteer Fire Department, Germantown Volunteer Fire & Rescue Services, and Montgomery County Sheriff's office in the following categories: Medal of Valor, Citation for Bravery, Distinguished Service Citation and Meritorious Service Citation.
Congressman David Trone, State Senators Brian Feldman, Cheryl Kagan, & Nancy King, Montgomery County Council President Sidney Katz, Montgomery County Council Member Craig Rice, and of course, our City of Gaithersburg Mayor Jud Ashman sent messages of support to the police officers, firefighters, paramedics, and other public safety officers who received honors for their dedication to protecting the community.
Each public safety official received a citation from Senator Kagan, the District 15 Delegation, and Congressmen David Trone.
The Chamber feels it is of the utmost importance to thank those who protect our homes, businesses, schools, and families every day.
Brock Merwin, vice president at Paul Davis Restoration and Remodeling & title sponsor for the 13th year in a row, encouraged everyone to thank a public safety officer especially during these difficult and uncertain times.
The Public Safety awards ceremony is a great way to celebrate the achievements, outstanding service, and commitment to the community of those being awarded. This program provides the business community with an opportunity to publicly thank those who help maintain the quality of life in the Gaithersburg and Germantown areas.
These men and women go above and beyond the call of duty to serve our local community and we want them to know we appreciate them and their hard work.
Gaithersburg Police Department
Kicking off the ceremony was Gaithersburg Police Department Lieutenant Shawn Eastman who presented the Meritorious Service Citation to Officer Dan Lane for providing quality service and protection to all people in an efficient and competent manner, tempered with courtesy, compassion and understanding. Officer Lane serves at the Community Services Officer for the department, where he is the focal point for communication between the citizens and the police department.
For going above and beyond the call of duty, & performing an extraordinary and heroic lifesaving action, Officer Mary Liddi was awarded the Citation of Bravery by Lt. Chris Vance. Officer Liddi was awarded for saving the lives of two women after a woman tried to drown her daughter in the RIO lake.
Gaithersburg-Washington Grove Volunteer Fire Department
Fire Fighter Robert Harding was presented the award of Distinguished Service Citation for his dedication and community service as a member of the Gaithersburg-Washington Grove Volunteer Fire Department after 60 years of service. He joined the department at the age of 20 and made a major impact on the department throughout the years.
Montgomery County Police, 6th District
Officer Michelle Barger investigated an intricate larceny case involving numerous victims stretching across multiple districts. Through tenacious investigative skills, Officer Barger was able to identify several victims of package thefts from numerous apartment complexes within Gaithersburg totaling a combined value of assets nearing $10,000. Officer Barger's dedication and tenacity in the investigation resulted in the recovery of numerous items of stolen merchandise being recovered, as well as the identification and subsequent prosecution of the individual responsible for completing the thefts. For her investigative efforts she was commended with the Meritorious Service Citation.
Officer Vince Romano and Officer Christopher Mumper reported to a shooting call, where subsequentially a man was shot and killed. Police charged the father-in-law with murder of his son-in-law. These two officers were ordered to risk their personal safety and well-being in order to stop the threat to the community. They did so quickly, professionally, without hesitation, and without additional loss of life or injury. Officer Romano and Officer Mumper exemplify the highest form of heroism and sacrifice and were awarded the Medal of Valor.
Montgomery County Police, 5th District
What began initially as a "domestic call", resulted in handguns being taken off the streets; and a suspect in jail for murder. Through excellent police work Officer Michael Murphy recovered marijuana, a .40 caliber extended magazine containing 21 rounds, a revolver, additional handgun magazines; speed loaders; a large quantity of varied ammunition; holsters; and large amounts of marijuana and paraphernalia, indicative of distribution. After further investigation, Officer Murphy identified the suspect in two separate incidents – a shooting and a murder. For his actions, he was awarded the Distinguished Service Citation.
A Germantown man approached women on social media and dating apps under a pseudonym. Through online conversations, he would coax them to send nude photos and videos. Following this, he'd disclose the truth, that he was "actually a dude," and demand the women have sex with him or he would send their compromising media to pornography sites, family members of the women, friends, and co-workers. Detective Joshua Locke located these victims and was able to sensitively proceed with interviews and gained the trust of these victims to proceed with a very strong case against the man. The suspect was arrested and has since been charged in six separate events with six separate victims This case is an outstanding example of the excellent work that law enforcement and the Montgomery County Department of Police do every day for all members of the community, but would not have been possible without the skill and persistence of Detective Locke. He received the Distinguished Service Citation for his excellent investigative work.
The Germantown Central Business District Team – Officer Dale Steffen, Officer Michael Riley & Officer Janelle Berry – observed a car on fire at a gas station. They quickly evacuated the area, moved the car away from the pumps, and began to extinguish the fire. If it were not for the quick-thinking and decisive action from these three officers, certainly the damage from the fire would have been much worse and there was a great potential for the community to be injured. They embodied the oath they took to put the public safety above their own. These officers were awarded the Citation of Bravery for their efforts.
Germantown Volunteer Fire Department
Raymond "Shakey" Hartzell joined the Montgomery County Fire Service in October 1972 with the Gaithersburg-Washington Grove Volunteer Fire Department. Firefighter Hartzell joined the Germantown Volunteer Fire Department when they were chartered in 1989 and for over the next ten years, he was the primary engine driver and driver trainer for all of the department's new drivers. For his dedication and volunteer service, he was awarded the Meritorious Service Citation.
Fact, around 70% of firefighters in the US are volunteers. And everyone is well aware, 2020 has been anything but a normal year, with the outbreak of the novel coronavirus that has changed everyone's life. The fire service is no different. The team comprised of Fire/Rescue Lt. Nate Hauser, Master Fire Fighter Brian Jones, EMS Lt. Fawad Gul, EMS Master Matthew Hermanson are awarded the Citation of Bravery for working overtime hours since March, knowing that they were placing their own lives at risk and were not being paid to do it.
Additionally, the Germantown Volunteer Fire Department volunteers- EMS Clinician II Gianni Minutoli, EMS Clinician II Erica Gray O'Leary, EMS Clinician II Rashmin Patel, & Fire Fighter/Rescuer 1 Alexandra Rosenberg- were also asked to step up and provide extra coverage during the pandemic. They provide EMS services above the ordinary call of duty. These members continued to participate in their standby's even with the knowledge of great risk to themselves and their families & friends. For their commitment, they're awarded the Distinguished Services Citation.
Montgomery County Sheriff Office
Deputy Sheriff Jason Cupeta was able to locate a missing student who was suffering with emotional problems and was identified as a possible danger to herself or others. After he located her, he took her to the hospital for evaluation. This incident is only one example of the many positive outcomes and interactions that Deputy Sheriff Cupeta has daily while assigned as the Montgomery County Sheriff's Office School Resource Officer. Whether he is conducting student meetings, assisting with school events or simply a reassuring presence for students and staff, Deputy Cupeta embodies the professionalism and competence indicative of the Montgomery County Sheriff's Office. He is recognized for his efforts with the Meritorious Unit Citation.
2020 Public Safety Sponsor's
TITLE: Paul Davis Restoration and Remodeling
MEDIA SPONSOR: Montgomery Community Media
SHINING SILVER: Hughes Network Systems
PUBLIC SAFETY AWARD SPONSORS

City of Gaithersburg
Gaithersburg Police Foundation
Holy Cross Health
Hughes Network Systems
Infinite Bridge, Inc.
Johns Hopkins University MCC
Montgomery College Germantown Campus
Rehab 2 Perform
Rodgers Consulting, Inc.
Therrien Waddell, Inc.

PUBLIC SAFETY OFFICIAL SPONSORS

Asbury Methodist Village
Beltway Merchant Services
BlackRock Center for the Arts
Cartridge on Wheels
Crown Trophy
DeLeon & Stang, CPA's & Advisors
Doug Ryder
iPlan
Johns Hopkins University MCC
The Law Office of Raymond T. McKenzie, Esq.
Leadership Maryland
Lerch, Early, Brewer, Chartered
M&T Bank
New Beginnings Psych
RedFin Real Estate
RIO
Savant Wealth Management
Seneca Creek Community Church
Shady Grove Hospital
Silver Diner
Will Schlossenberg

SPECIAL EVENT SPONSORS

Bargain Movers
Crown Trophy
Quincy CFO
The GGCC is active in providing business-to-business networking opportunities throughout the year: a collective voice in local, regional, and state legislative affairs, professional development opportunities and other services that enhance the business environment.
The GGCC is located at 910 Clopper Road, Suite 205N, Gaithersburg, MD. To learn more about the GGCC visit us at www.ggchamber.org. Find us! Facebook: https://bit.ly/2NmNSpC | Twitter: @GGCCNEWS | Instagram: gburggermantownchamber #GGCCevents #GGCCpublicsafety