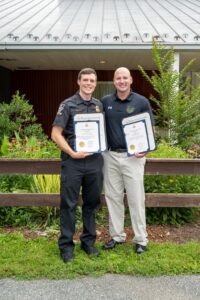 Gaithersburg /Germantown, MD (July 13, 2022) – Twenty-eight years of honoring the Upcounty's finest for going above & beyond . The Gaithersburg-Germantown Chamber of Commerce (GGCC) honored thirty-three Upcounty Police Officers & three outstanding citizens at their 28th Annual Public Safety Awards on Friday, July 8, 2022.
This event honors the public safety personnel and first responders from Montgomery County Upcounty's fire & police and sheriff departments, who have exemplified extraordinary heroic actions and exceptional performance of their duties.
"We must never forget how important our first responders are to our community keeping us safe every day," said Brock Merwin of Paul Davis Restoration & Remodeling and the awards title sponsor for the 15th year in a row.
This year the Chamber recognized public safety officials from the Montgomery County Police 5th & 6th Districts, Montgomery County Sheriff's Office, the Maryland State Police, Laytonsville District Volunteer Fire Department & Asbury Methodist Village Protective Services in the following categories: Citation for Bravery, Distinguished Service Citation and Meritorious Service Citation.
In attendance were State Senators Brian Feldman, Cheryl Kagan, & Nancy King, State Delegate Lily Q; Montgomery County Executive Marc Elrich; Montgomery County Council President Gabe Albornoz and Councilmembers Sidney Katz & Will Jawando; City of Gaithersburg Mayor Jud Ashman; City of Gaithersburg Council Vice President Ryan Spiegel; City of Gaithersburg Council Member's Neil Harris, Lisa Henderson, Jim McNulty, & Robert Wu; Maryland State Police Assistant Commander Vincent Upole; Montgomery County Police Chief Marcus Jones; Montgomery County Fire Department Chief Scott Goldstein; Montgomery County Sheriff Darren Popkin; Montgomery County Police, 6th District, Commander Eric Stancliff; and Gaithersburg Police Department Police Chief Mark Sroka.
County Executive Elrich, Chief Jones, Chief Goldstein, Mayor Ashman, and Brock Merwin sent messages of support to the police officers, sheriff's, firefighters, and other public safety officials who received honors for their dedication to protecting the community.
Each public safety official received a citation from Senator's Feldman & Kagan and Congressmen Trone. And two tickets to a Washington Nationals game compliments of Lerner Enterprises & the Washington Nationals.
The Chamber feels it is of the utmost importance to thank those who protect our homes, businesses, schools, and families every day.
The Public Safety awards ceremony is a great way to celebrate the achievements, outstanding service, and commitment to the business community of those being awarded. This program provides Chamber Members with an opportunity to publicly thank those who help maintain the quality of life in the Gaithersburg and Germantown areas.
These men and women go above and beyond the call of duty to serve our local community and we want them to know we appreciate them and their hard work.
—————–
Summary of Awards
Montgomery County Sheriff's Office 
Deputies Michael Brown and Travis Cox responded to a domestic violence call in Germantown. Originally in the area to serve a protective service order, they overheard a call for a welfare check. The county police were inundated with calls, and the deputies stepped up. Upon arrival, they found a woman unconscious with her wrists slit and the smell of gas. They quickly, stopped the gas leak and took the woman to safety. Due to their decision to respond to a dispatched call for service, which was beyond their regular duties, the woman's life was saved, and a potential gas explosion was averted. For their successful efforts on this day, they were honored with the Distinguished Service Citation.
—————–
Montgomery County 5th District Police – Germantown
Officers Frank Corn, Charles Valente, John McClellan, and Dominic Acosta responded to a domestic violence call. Upon arrival, they walked into a scene where the 11-year-ole caller's mother was suffering from multiple injuries, sitting on a bed, begging for help. The woman's husband was sitting on the bed next to her with his arm around her in a chokehold, pointing a firearm at her head. Officers demanded for him to drop his weapon. He complied and was arrested. If the Officers had not arrived in time, the victim said she would have been dead. For their courageous efforts, they were awarded the Citation of Bravery.
Off duty, Detective Michael Polcsa and Officer Kyle Berry reported to a gunshot call. Upon arrival, they found a victim suffering from ten gunshot wounds. They immediately began to render aid to the injured individual by applying tourniquets to both legs and occlusive dressings to the victim's most severe injuries. These actions saved the victim's life. They were awarded the Distinguished Service Citation.
A woman was loading groceries into her car when she was struck by another car and pinned. Three nearby citizens, Kelly Anne Mueller, Miles Korang, and Ryan Strade rushed to the victim's aid and began tending to her injuries, which would have been fatal without immediate intervention. Sergeant Kevin Holmes, who was in the area when the call was dispatched, responded to the scene, and immediately applied tourniquets to both pedestrian's legs, preventing further blood loss. The woman is alive today due to the courageous efforts of all, and they were awarded the Distinguished Service Citation.
Between November 13, 2021, and February 24, 2022, Patrol Officer Gregg Johannesen single-handedly recovered nine firearms through his hard work and proactive patrolling in the community. While some officers may only recover one or two firearms during their entire career, it is incredible that Officer Johannesen's diligence and hard work led to the recovery of nine firearms in a little more than six months. He has, without a doubt, single-handedly prevented violent crime through his performance at work. And was awarded the Distinguished Service Citation.
Detective Jesse Dickensheets learned of fraudulent orders made to Lowe's stores throughout Maryland. Fifty-seven completed orders, totaling more than $93,300, had been shipped to a U-Haul Storage center in Gaithersburg using stolen credit cards. Through his investigation, Dickensheets identified sixty fraudulent purchases made by two suspects. Multiple search warrants were issued resulting in the recovery of twenty-nine appliances, valued at $38,400. The total scope of the investigation was more than $100,000 and Detective Dickensheets was able to charge several suspects in the theft scheme. For his action, he was awarded the Distinguished Service Citation.
The Officers of the Fifth District's Central Business District – "A" team developed a working tactic to help shopping retailers combat shoplifting. Collectively, the unit recognized that the current procedure in place was ineffective. To combat theft and shoplifting, Sergeant James Ross and Officers Lee Guzinski, Ryan Grzybowski; Colton Peterson and Dominic Markajani established relationships with local merchants. The officers provided their own cell phone numbers to the stores and created a "group chats" with them. When retail-loss prevention agents observed a theft or suspicious activity, they would call 911 and pass along this information to CBD officers via the group text. The stores provided more timely information, often including photographs of suspects and/or vehicles to the team. As a result of their efforts, suspects are now being apprehended and the system is working, resulting in recovery of thousands of dollars in stolen goods. For their diligence, they were awarded the Meritorious Service Citation Award.
—————– 
Montgomery County Police, 6th District
On January 21, 2022, a shooting occurred at Magruder High School. Montgomery County Sheriff Sergeant Jason Cupeta & Detective Brandon McQuay worked swiftly to identify via video the seven students in or around the bathroom at the time of the shooting. They then worked to identify the classrooms that those students should have been in and if they were, in fact, in those classrooms. Shortly after, the shooter was located. Cupeta led the SWAT team to the classroom and the shooter was taken into custody. Det. Cpl. Janice Bach arrived to assist with the investigation and conduct interviews. McQuay and Bach interviewed more than thirty students and staff members about the shooting. Cupeta, working with the SWAT, cleared the remaining students from the classrooms. Cupeta, McQuay, and Bach accomplished a great service during a very chaotic scene and were awarded the Distinguished Service Citation.
Sixth district Officers – Sergeant Lyndon Jones and Officer's Lorenzo Acosta, Jimmy Chen, Michael Chindblom, & Erin Rorke – arrived at a chaotic scene where a mother's daughter was suffering from a mental health crisis and destroying the mother's home. When the mother and her son attempted to intervene and stop her, the daughter grabbed three knives to keep them back and was threatening to take her own life. The Officers encountered a woman suffering from PTSD and anxiety, and whose thinking was erratic, while armed with multiple knives. These officers at great risk, to their own personal safety, encountered a woman in an agitated mental state, conducted face-to-face negotiations with the subject while she was armed for an hour and twenty minutes. For their actions, they were awarded the Citation for Bravery.
Police Officer Nathan Rodgers encountered a single vehicle collision on I-270. Approaching, he found the driver unconscious and foaming from the mouth with his foot on the accelerator pedal causing the tires to spin and the engine to rev high, but the vehicle not in motion. The combination of this and the dry vegetation brush which the       vehicle was stationary on caused it to smoke and ignite. Sergeant William Drew arrived and at this point the engine bay of the vehicle was smoking and on fire. Officer Rodgers slowed down the fire in the engine bay using a fire extinguisher while Sgt. Drew pulled the driver out from the vehicle. From the time that Officer Rodgers arrived on scene, the vehicle was fully engulfed on fire within four minutes. The teamwork by both officers allowed the driver to be safely extracted from the burning vehicle. It was learned that the driver had a seizure while he was operating the vehicle. The bravery, quick thinking, and actions of both Officers prevented this from being a fatal incident. For their heroic actions, they were awarded the Citation for Bravery.
Police Officer Rachel Staiger and her trainee responded to a call and found an unresponsive elderly male on the bathroom floor. After moving the victim to a more accessible area, Staiger began CPR efforts until Fire Rescue arrived. She did an admirable job with her CPR efforts and set an outstanding example for her trainee. She remained calm, assessed the scene, and immediately took appropriate actions, helping to save the life of the victim. For her life-saving actions, she was awarded the Distinguished Service Citation.
—————–
Asbury Methodist Village Protective Services Division
Wayne Cleaver, a Protective Services Officer at Asbury Methodist Village, was awarded the Meritorious Service Citation for his dedication, service, and going above & beyond for the residents of the Asbury community for the past forty-seven years. He looks after the needs of thousands of residents providing security and first-responder services for almost five decades. His tenure and dedication to the job and public safety are second to none. Forty-seven years in, he remains the first to arrive on scene and has a unique ability to calm a resident down in their time of crisis. Many EMS and fire personnel have a personal relationship with him, especially since Asbury has a close relationship with emergency services.
—————–
Laytonsville District Volunteer Fire Department
Chief Stanley 'Buddy' Sutton, Jr. was recognized by for his life-saving actions during a house fire on Barnes Road, in Damascus, on March 31, 2022. Living a short distance from the fire, Sutton arrived on scene first and was told there were still residents inside the home. Sutton entered the structure at great personal risk and without the benefit of a hose line for protection, visual conditions were poor from the smoke conditions. He began moving toward the resident using the sound of her screaming to locate her. After rescuing her, he was told there was still one more unaccounted for. Sutton located the last resident on the side of the house. After the event, it was discovered that the resident's Sutton saved were autistic and would not have been able to escape the fire without assistance. Sutton's actions exemplified self-sacrifice, bravery, and the ability to keep calm in the face of rapidly changing and dangerous conditions and was awarded the Citation for Bravery.
—————–
Maryland State Police
Trooper First Class Nicholas Kline has distinguished himself as an accomplished Maryland State Trooper who is proficient in the detection and apprehension of impaired drivers. Kline leads the Rockville Barrack, and ranks second in the entire Washington Metro Troop,  in impaired driving arrests. In just five months in 2022, he has removed thirty-one impaired drivers from Maryland's roadways and averages a DUI arrest for one of every sixteen traffic stops he makes. In fact, TFC Kline accounts for approximately 25% of the total DUI arrests made at the Rockville Barrack. Kline's efforts have undoubtedly saved countless amounts of property damage, injuries, and fatalities in Montgomery County. For his steadfast commitment to the identification and apprehension of impaired drivers to keep our roads safe, and for the actions he has taken to prevent needless property damage, personal injuries, and fatalities, Trooper First Class Nicholas Kline was awarded the Meritorious Service Citation.
Trooper Brian DeHaven & Montgomery County Police Detective Scott Koogle were awarded the Medal of Valor at the Gaithersburg-Germantown Chamber Public Safety Awards on July 8, 2022. DeHaven was conducting a traffic stop when a vehicle trying to avoid slower traffic, traveled between the concrete jersey wall and DeHaven's patrol car before eventually striking him and pinned him between the car and jersey wall. He was dragged down the concrete jersey wall and trapped between the car the jersey wall. His radio was damaged, and he had no way to call for help. Koogle stopped to help and immediately began to render life-saving aid. For Trooper DeHaven's performance under exceptional circumstances, and extremely hazardous conditions, and to Detective Koogle for administering lifesaving first aid, they were awarded the Medal of Valor.
—————–
Public Safety Award Sponsors
Title Sponsor
Paul Davis Restoration & Remodeling 
Official Gift Sponsors
Washington Nationals
Lerner Enterprises
Shining Silver Sponsors
Hughes Network Systems, LLC 
SkyPoint Federal Credit Union
Table Sponsors
Asbury Methodist Village
City of Gaithersburg
Foresight Insurance, LLC
Holy Cross Health
Hughes Network Systems, LLC
Lerch, Early & Brewer, Chartered
M&T Bank 
Montgomery College Germantown Campus
Northwest Federal Credit Union
PCC Construction Components, Inc.
Rehab 2 Perform
Rodgers Consulting, Inc.
SERVPRO of Gaithersburg/Germantown
TW Construction
Public Safety Official Recipient Sponsors
Anita Anderson
Beltway Merchant Services
Channer Consulting, LLC
Crown Trophy
Grace and Virtue Events, LLC
Kofemi, LLC
Peak Insurance & Benefit Services, LLC
Peterson Company
Redfin Real Estate
Spacesaver Interiors 
Special Event Sponsor
Bargain Movers
Crown Trophy 
The GGCC is active in providing business-to-business networking opportunities throughout the year: a collective voice in local, regional, and state legislative affairs, professional development opportunities and other services that enhance the business environment.
The GGCC is located at 910 Clopper Road, Suite 205N, Gaithersburg, MD. To learn more about the GGCC visit us at www.ggchamber.org. Find us! Facebook: https://bit.ly/2NmNSpC | Twitter: @GGCCNEWS | Instagram: gburggermantownchamber #GGCCevents #GGCCpublicsafety