Germantown, MD (October 4, 2019) – The Gaithersburg-Germantown Chamber of Commerce (GGCC) joined Patient First on October 2, 2019 to celebrate the grand opening of its new walk-in treatment center in Germantown, Md.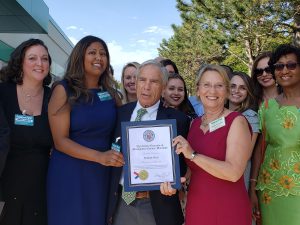 Patient First opened its new medical center in Germantown, MD, on Thursday, October 3, 2019. The medical center, located in the Milestone Shopping Center at 21044 Frederick Road, Germantown, will provide the area with walk-in, non-appointment access to urgent and primary medical care services from 8:00 a.m. to 10:00 p.m. 365 days a year, including all holidays. The Germantown location is the 19th Patient First in the Washington, DC, metropolitan area and the 23rd in Maryland.
This health center features a wide range of on-site services, including:
An x-ray department staffed by radiologic technologists;
A government-certified lab staffed by lab professionals;
Prescriptions for many common urgent care conditions;
Nebulizer treatments for mild to moderate asthma attacks;
Intravenous (IV) hydration; and
Electrocardiogram (EKG).
Learn more at: www.patientfirst.com.
The GGCC is active in providing business-to-business networking opportunities throughout the year: a collective voice in local, regional, and state legislative affairs, professional development opportunities and other services that enhance the business environment.
The GGCC is located at 910 Clopper Road, Suite 205N, Gaithersburg, MD. To learn more about the GGCC visit us at www.ggchamber.org. Find us! Facebook: https://bit.ly/2NmNSpC | Twitter: @GGCCNEWS | Instagram: gburggermantownchamber