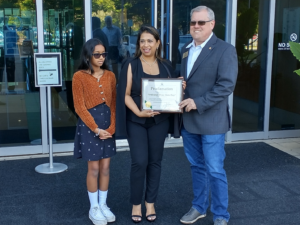 Gaithersburg, MD – September 23, 2022 – Universal Floor Mats, a new organization dedicated to providing affordable and quality solutions to your flooring needs, celebrated the grand opening of the local office in Gaithersburg with a ribbon-cutting ceremony.
The Gaithersburg-Germantown Chamber of Commerce (GGCC) along with Gaithersburg Mayor Jud Ashman and Assistant to the Senator Ken Reichard conducted the ribbon cutting with the team behind Universal Floor Mats including owner and founder Tina Perera at their new office space off Washingtonian Boulevard in Gaithersburg Maryland on Friday, September 23, 2022, at 11 am.
Universal Floor Mats brings you expertise from tapping rubber tree collecting latex to the most complex compound formulation. They are able to provide over 20 years of industry experience in research & development, manufacturing, and understanding their customer needs from simple residential use to international wholesalers. The GGCC is honored to welcome them to the Gaithersburg area and look forward to continuing to work alongside them to ensure their business a success.
The GGCC is active in providing business-to-business networking opportunities throughout the year: a collective voice in local, regional, and state legislative affairs, professional development opportunities, and other services that enhance the business environment.
The GGCC is located at 910 Clopper Road, Suite 205N, Gaithersburg, MD. To learn more about the GGCC visit us at www.ggchamber.org. Find us! Facebook: https://bit.ly/2NmNSpC | Twitter: @GGCCNEWS | Instagram: gburggermantownchamber.
For media inquiries related to Universal Floor Mas, please contact Tina Perera at support@universalfloormats.com , 888-605-0678, 9711 Washingtonian Boulevard, Suite 550, Gaithersburg, Maryland 20878, United States | https://universalfloormats.com/