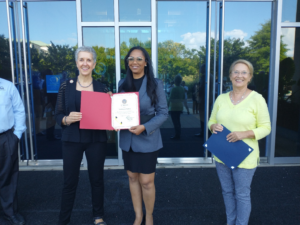 Gaithersburg, MD – September 15, 2022 – The Jackie Legend Foundation, a nonprofit organization dedicated to providing foster care adolescents with resources to achieve a brighter future in business, celebrated the grand opening of the organization in Gaithersburg with a ribbon-cutting ceremony.
The Gaithersburg-Germantown Chamber of Commerce (GGCC) and local representatives conducted the ribbon cutting with the team behind the Jackie Legend Foundation including Jackie Legend herself at their new office space off Washingtonian Boulevard in Gaithersburg Maryland on Tuesday, September 13, 2022, at 11 am.
At the Jackie Legend Foundation, their goal is to offer a professional environment where foster care and group home adolescents can become business professionals and achieve a brighter mental, emotional and financial future! 
Their mission is to "Identify young aspiring entrepreneurs and business owners to support them by orchestrating the necessary resources needed for their financial independence, while becoming a great asset to the community."
Those interested in learning more about the Jackie Legend Foundation and supporting the needs of the organization can visit their website at https://jackielegendfoundation.org/  or reach out to start@jackielegendfoundation.org 9711 Washingtonian Boulevard, Suite 550, Gaithersburg, Maryland 20878, United States | 800-269-5559
The GGCC is active in providing business-to-business networking opportunities throughout the year: a collective voice in local, regional, and state legislative affairs, professional development opportunities, and other services that enhance the business environment.
The GGCC is located at 910 Clopper Road, Suite 205N, Gaithersburg, MD. To learn more about the GGCC visit us at www.ggchamber.org. Find us! Facebook: https://bit.ly/2NmNSpC | Twitter: @GGCCNEWS | Instagram: gburggermantownchamber.
For media inquiries related to The Jackie Legend Foundation, please contact Jackie Legend at start@jackielegendfoundation.org or | 800-269-5559.