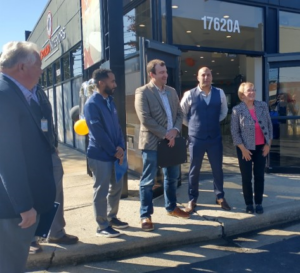 Gaithersburg, MD – October 14, 2022 – Optimum Interiors, a subdivision of Optimum Group, Inc., celebrated the grand opening of their beautiful showroom in Rockville, MD, with a ribbon-cutting ceremony.
The Gaithersburg-Germantown Chamber of Commerce (GGCC) and Assistant to Senator Ken Reichard conducted the ribbon cutting with the team behind Optimum Interiors, including owner and founder Omar Elrahimy at their new showroom on Redland Road in Rockville, Maryland, on Friday, October 14, 2022, at 11 am.
The new Optimum Interiors is a must-see for any considering remodeling their home. Anyone interested can visit their Design Center and set up meetings with their Project Consultants to go over products and review samples on the showroom floor. Their showroom features detailed vignette designs that beautifully display our products installed in the life-like bathroom and kitchen features.
The GGCC is active in providing business-to-business networking opportunities throughout the year: a collective voice in local, regional, and state legislative affairs, professional development opportunities, and other services that enhance the business environment.
The GGCC is located at 910 Clopper Road, Suite 205N, Gaithersburg, MD. To learn more about the GGCC visit us at www.ggchamber.org. Find us! Facebook: https://bit.ly/2NmNSpC | Twitter: @GGCCNEWS | Instagram: gburggermantownchamber.
For media inquiries related to Optimum Interiors, please contact Omar Elrahimy, at hello@optimuminteriors.com, (301) 941-7890, 17620 Redland Road, Rockville, MD 20855, United States | https://optimuminteriors.com/