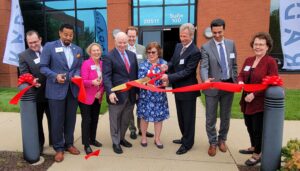 Gaithersburg, MD (May 3, 2022) –The Gaithersburg-Germantown Chamber of Commerce (GGCC) supported RADA USA at their expansion ribbon cutting ceremony of their facility located at 20511 Seneca Meadows Parkway, Suite 100, in Germantown.
The expansion features a state-of-the-art R&D and manufacturing operation producing advanced electronics for the defense and aerospace industry. The new facility has full manufacturing capabilities for RADA USA's active electronically scanned array tactical radars. RADA's expansion project & plans to add full-time employees by the end of 2023.
"It's great to see an expansion of jobs in Germantown," said Marilyn Balcombe, GGCC President/CEO. "The I-270 Corridor is a great location for businesses grow."
RADA USA produces electronics for the aerospace and defense industry and is a research and development and manufacturing operation. Learn more about them at www.radausa.com.
The GGCC is active in providing business-to-business networking opportunities throughout the year: a collective voice in local, regional, and state legislative affairs, professional development opportunities and other services that enhance the business environment.
The GGCC is located at 910 Clopper Road, Suite 205N, Gaithersburg, MD. To learn more about the GGCC visit us at www.ggchamber.org. Find us! Facebook: https://bit.ly/2NmNSpC | Twitter: @GGCCNEWS | Instagram: gburggermantownchamber