Germantown, MD (October 9, 2019) – The Gaithersburg-Germantown Chamber of Commerce (GGCC) joined Quince Orchard Dental Care on October 7, 2019 to celebrate the grand opening of its new dental office in Gaithersburg, Md.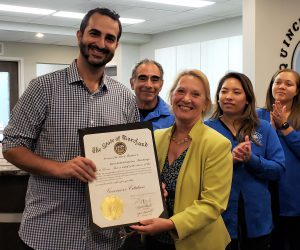 Celebrating eight-years in business, Quince Orchard Dental Care opened its new state-of-the-art dental office located 845-H Quince Orchard Boulevard in Gaithersburg, Md.
Quince Orchard Dental Care is a multi-specialty dental practice. At the practice, their mission is "to make people healthy", with an aim to get 20 million people healthy by 2020. They are striving to do their part by helping 10,000 people be on the road to great health by 2020. To aid this effort, they have expanded their office & are participating in community outreach programs, visiting schools & making a positive impact on the health of 10,000 people who live in their community by 2020.
Office hours are Monday thru Friday from 7:00 a.m. to 5:00 p.m., and Saturday from 7:00 a.m. to 2:00 p.m. The Quince Orchard Dental Care practice is led by general dentist Dr. M. Mehran Rouhanian and his partners Dr. Jay Plesset, general dentist; Dr. Brandon Lee, general dentist; Dr. Lauren A. Lewis, pediatric dentist; and Dr Ossob Abdillahi, pediatric dentist.
This dental practice offers a wide range of services, including:
General Dentistry
Cosmetic Dentistry
Pediatric Dentistry
Orthodontic
Periodontics
Dental Implantology
Endodontics
Oral Surgery
Preventative Care
Sleep Apnea
Looking to improve your oral health from a team of experienced professionals? Lean more at: www.quinceorcharddentalcare.com or www.quinceorcharddentalspecialists.com.
The GGCC is active in providing business-to-business networking opportunities throughout the year: a collective voice in local, regional, and state legislative affairs, professional development opportunities and other services that enhance the business environment.
The GGCC is located at 910 Clopper Road, Suite 205N, Gaithersburg, MD. To learn more about the GGCC visit us at www.ggchamber.org. Find us! Facebook: https://bit.ly/2NmNSpC | Twitter: @GGCCNEWS | Instagram: gburggermantownchamber