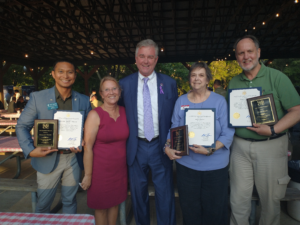 Gaithersburg /Germantown, MD (September 16, 2022) – The Gaithersburg-Germantown Chamber of Commerce (GGCC) honored its volunteers, showed its commitment to volunteerism and recognize its Chamber stars at the Annual Membership Picnic event on Thursday, September 15, 2022. The event was held at and was sponsored by Smokey Glen Farm Barbequers, Inc. in Gaithersburg.
The GGCC holds its annual picnic in honor of its volunteers who generously give their time and talents to the Chamber. These remarkable people are an integral part of the Chamber and its success.
The GGCC has over one hundred active volunteers who help the GGCC remain vital and meet the needs of our business community.
Four chamber members received an award & special recognition for their commitment and involvement with the Chamber. These "exceptional volunteers" were nominated by the working committees of the Chamber for having substantially contributed to GGCC member programs and activities.
The Chamber was honored to have Congressman David Trone to speak to all attendees and give a special thank you to each of the exceptional volunteers present.
Nonprofits also serve a very important role in our community. Annually, the GGCC shows its commitment to volunteerism by giving its non-profit members the opportunity to "showcase" their organizations and communicate their role in our business community at its picnic.
"Our non-profits do really important work for the community. It is our great pleasure to give them an opportunity to showcase their organizations," said Marilyn Balcombe, GGCC president.
The non-profit organizations participating in this year's showcase include:
BlackRock Center for the Arts
CaringMatters
CollegeTracks
Cornerstone Montgomery
Future Link, Inc.
Housing Initiative Partnership.
Madison House Autism Foundation
Maryland Leadership Workshops, a Division of Leadership Maryland
Metropolitan Ballet Theatre and Academy
Montgomery County Department of Environmental Protection/Solid Waste Services
Montgomery County DOT – Commuter Services
Montgomery Village Foundation
The Bernie Scholarship Awards Program
The Nonprofit Village Center, Inc.
Operation Second Chance
Pen A Friend, Inc.
SEEC
Story Tapestries, Inc.
TLC – The Treatment & Learning Centers
The Tree House Child Advocacy Center of Montgomery County
U.S. Census Bureau
The GGCC is active in providing business-to-business networking opportunities throughout the year: a collective voice in local, regional, and state legislative affairs, professional development opportunities and other services that enhance the business environment.
The GGCC is located at 910 Clopper Road, Suite 205N, Gaithersburg, MD. To learn more about the GGCC visit us at www.ggchamber.org. Find us on Facebook at: http://www.facebook.com/pages/Gaithersburg-Germantown-Chamber-of-Commerce/64339954570. And on Twitter at @GGCCNEWS.