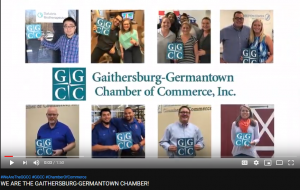 Gaithersburg /Germantown, MD (December 13, 2018) – The Gaithersburg-Germantown Chamber of Commerce (GGCC) has launched a new business attraction and retention video to highlight why the GGCC is a great organization for business. It also shows that by working together, the Chamber provides a wide range of valuable services to support businesses as they locate and grow here. The GGCC is home to businesses of all sizes – including cutting-edge biotech firms, manufacturing companies, real estate development teams, restaurants, retailers and hotels.
YouTube is the world's second largest search engine and third most visited site after Google and Facebook. As of September 2018, there are 1.9 billion monthly active YouTube users & 5 billion videos are watched per day, according to Omnicore.
The GGCC in effort to stay on top of its content marketing, has recently launched its "We Are the Gaithersburg-Germantown Chamber!" video.
"We love this video. It is a great cutting-edge way to show the many ways the Chamber of Commerce can help businesses thrive. Not only was it fun to pull together, but the dominance of video marketing will only continue to increase in the next few years. The Chamber needs to be part of that trend." said Marilyn Balcombe, GGCC President / CEO.
The GGCC was searching for a more effective marketing tool, hence our latest video that demonstrates how the Chamber can "increase the value of your business".
The Chamber's Director of Events & Marketing, Laura Rowles, created a storyboard and filmed over 25 of its 420 Chamber Members. Weston Trussell, of Weston Trussell Creative, was instrumental in making the storyboard come to life. Learn more about Weston Trussell Creative at: www.westontrussell.com.
The video concept explains nearly twenty reasons why the Gaithersburg-Germantown Chamber of Commerce, located in Gaithersburg, Maryland, is a vibrant, dynamic organization in Montgomery County.
As we head into our 70th anniversary, we wanted tell the Chamber story; show how we work together with our businesses and community leaders to strengthen the local economy and increase opportunities for our Members.
You can view the "We Are the Gaithersburg-Germantown Chamber!" video on YouTube at: https://youtu.be/nAcRlP4eqhQ; on our Facebook page, on our LinkedIn page; or on our Twitter page.
The GGCC is active in providing business-to-business networking opportunities throughout the year: a collective voice in local, regional, and state legislative affairs, professional development opportunities and other services that enhance the business environment.
The GGCC is located at 910 Clopper Road, Suite 205N, Gaithersburg, MD. To learn more about us visit us at www.ggchamber.org. Find us on Facebook at: https://bit.ly/2zWTkeL; on Instagram at gburggermantownchamber; and on Twitter at @GGCCNEWS.