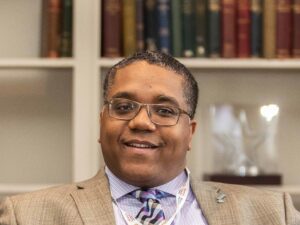 Gaithersburg /Germantown, MD (August 30, 2021 ) – The Gaithersburg-Germantown Chamber of Commerce (GGCC) welcomes Stephen R. McDow II as their new Director of Membership.
McDow brings more than 15 years' experience providing marketing, outreach, partnership relations, and program development services and strategies to small businesses, startup businesses, non-profits, and trade associations.
He believes that local and community-based businesses are key to building strong and resilient eco-systems that is both representative and reflective of its community. McDow is passionate about using his experience and professional background to help equitably build a highly attached and inter-connected economy and community that is also detachable.
McDow uses his skills to help membership organizations, both large and small, reverse negative trends, grow, increase positive member outcomes, and advance regulatory and legislative policy ideas that help its members become and remain successful.
He has a Bachelor of Science from Northeastern University.
The GGCC is active in providing business-to-business networking opportunities throughout the year: a collective voice in local, regional, and state legislative affairs, professional development opportunities and other services that enhance the business environment.
The GGCC is located at 910 Clopper Road, Suite 205N, Gaithersburg, MD. To learn more about the GGCC visit us at www.ggchamber.org.
Find us on Facebook at: http://www.facebook.com/pages/Gaithersburg-Germantown-Chamber-of-Commerce/64339954570. Or on Twitter at: @GGCCNEWS.