Gaithersburg, MD (December 16, 2022) – The Gaithersburg-Germantown Chamber of Commerce (GGCC) is pleased to announce its 2023 Board of Directors. They are the leaders of the business community.
"I'm looking forward to another great year," said Paula Ross, GGCC President & CEO. "We have excellent board leadership, and new programs planned for 2023; I'm excited for the year to come as we look to new ways to support our member businesses."
New Chair of the Board AJ Nwoga, Sr. Vice President at M&T Bank, commented, "We are the voice of the business community. We are the advocate for all businesses, large and small, minority-owned or otherwise, been in business for decades, or just beginning. We understand that the businesses in our community don't all share the same challenges, so we are intentional in making sure we cater to the needs of unique businesses that exist in our community. Specifically, we are committed to making sure our Pathways to success program continues to provide support, education, networking, and other resources to our minority- and women-owned small businesses. The tag line of this story is: representation matters. Moral of the story is diversity is a reality, inclusion is a choice. We have a responsibility to create an environment where all can succeed if we desire sustained success."
Ms. Nwoga further commented to provide thanks to the previous President & CEO of the Chamber, recently elected County Councilmember Marilyn Balcombe, and to welcome the new President & CEO, Paula Ross. "We are confident you are the right leader, at the right time to advance the right causes of GGCC in our multicultural environment. Through your leadership and vision, the Chamber will flourish, prosper, and continue to be the most relevant business organization."
As board members, these leaders are assuming considerable responsibility for the smooth functioning of the chamber's board of directors and the efficient and effective operation of the organization. The Gaithersburg-Germantown Chamber of Commerce is a federation of business and professional people working together to advocate for the interests of our membership in ways that enhance the business environment, quality of life, and well-being of our unique communities.
The 2023 GGCC Board of Directors:
Executive Committee
Chair: AJ Nwoga, Sr. Vice President, M&T Bank
Chair-Elect: Heather Madison, Retail Property Manager, The Peterson Companies
Treasurer: Dan Dellon, CPA, Gaithersburg CPAs
Vice Chair, Economic Development & Legislative Affairs: Henry Bernstein, Sr. Vice President, Sheer Partners
Vice Chair, Member Recruitment & Retention: Steve Barber, Owner and Managing Director, Supporting Strategies
Vice Chair, Young Professionals Group: Eric Ashmont, Financial Advisor, Edward Jones
Immediate Past Chair: David McCormick-Goodhart, Financial Advisor, Savant Wealth Management
Raymond McKenzie, Attorney, The Law Office of Raymond T. McKenzie, Esq.
Romy Nunez, Commercial Insurance Broker, Foresight Insurance, LLC
Board of Directors
Anita Anderson, Director of Development & Engagement, Leadership Maryland
Kerri Cook, Financial Counselor, Housing Initiative Partnership
Fernando Fuentes, Vice President Business Banking, First National Bank
Joyce Fuhrmann, Board Chair, Maryland Soccer Foundation
Martin Hollander, Owner, Crown Trophy
Muhammad Kehnemouyi, Interim Vice President and Provost, Montgomery College
Sandy LeBlanc, Realtor, Coldwell Banker | Realty
Tom Lonergan-Seeger, Assistant City Manager, City of Gaithersburg
Matt Maynard, President, TW Construction
Michele Potter, Executive Director, Asbury Methodist Village
Brett Rough, Executive Director, Digital Intelligence Systems (DISYS)
Steve Simon, Director of Marketing & Communications, Universities at Shady Grove
Gary Unterberg, Senior Vice President, Rodgers Consulting, Inc.
Molly Van Grack, Corporate Marketing Communications Specialist, Hughes Network Systems
Emmyrich Vicente, Vice President Business RM, PNC Bank – Business Banking
Laura Volovski, Director of Philanthropy- Cancer Service, Adventist HealthCare, Shady Grove Medical Center
Dawn Walton, Vice President of Medical Affairs, Holy Cross Germantown Hospital
Chairs Emeritus
Stuart Barr, Attorney, Lerch, Early & Brewer, Chartered
John Compton, Vice Chairman, BlackRock Center for the Arts
Barbara Crews, Qiagen LLC
Allen DeLeon, CPA, Retired
Colette Releford, Senior Agent, Redfin Real Estate
William Schlossenberg, Retired
Randy Scritchfield, President, Randy Scritchfield and Associates
Jerry Therrien, Retired
The GGCC held its Annual Celebration Dinner and Awards Ceremony on Thursday, December 8 at 6:00 p.m. at the Doubletree, 620 Perry Parkway, Gaithersburg. This annual event is the Chamber's opportunity to celebrate its year's successes and look ahead. The evening events included the installation of the 2023 Board of Directors,  dinner, the presentation of the Annual "You Made a Difference Award," the announcement of the "16th Annual Small Business of the Year" (Supporting Strategies, owner Steve Barber) and the "10th Annual Young Professional of the Year" (Romy Nunez, Foresight Insurance) awards, the awarding of scholarships funded by GGCC members to four Montgomery College students, and a special tribute to County Councilmember Marilyn Balcombe in recognition of 17 years of exemplary service to the business community as CEO of the GGCC.
The GGCC is active in providing business-to-business networking opportunities throughout the year: a collective voice in local, regional, and state legislative affairs, professional development opportunities, and other services that enhance the business environment.
The GGCC is located at 910 Clopper Road, Suite 205N, Gaithersburg, MD. To learn more about the GGCC visit us at www.ggchamber.org. Find us! Facebook & Instagram & LinkedIn: @gburggermantownchamber | Twitter: @GGCCNEWS |
###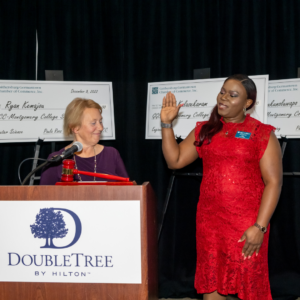 County Councilmember Marilyn Balcombe swearing in newly appointed GGCC Board Chair AJ Nwoga, Sr. Vice President at M&T Bank during the Chamber's annual Celebration Dinner and Awards Ceremony. (Photo Credit: Hilary Schwab Photography)
Several 2023 Board of Directors members at the Gaithersburg-Germantown Chamber of Commerce annual Celebration Dinner and Awards Ceremony.
(Photo Credit: Hilary Schwab Photography)