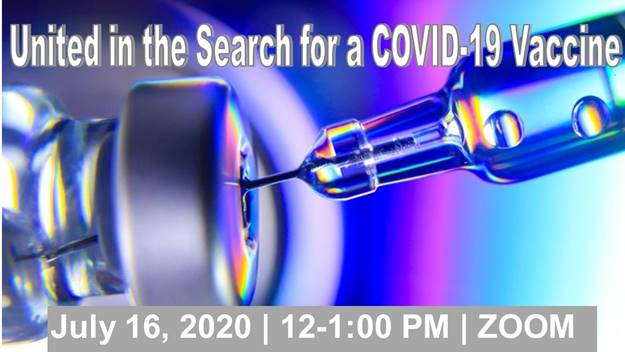 Gaithersburg /Germantown, MD (July 13, 2020) – As top scientists around the world are working to eradicate COVID-19, the Gaithersburg-Germantown Chamber of Commerce (GGCC) will be joined by AstraZeneca at its "United in the Search of a COVID-19 Vaccine" webinar on Thursday, July 16, 2020 at Noon.
In these unprecedented times, the biohealth industry is coming together to achieve one shared goal: to beat COVID-19. And it is happening in our back yard.
As Maryland & Montgomery County gradually lift the confinement measures, it is clear that vaccine represents our best hope of moving out from under the shadow of the coronavirus epidemic.
The Gaithersburg-Germantown, Clarksburg, & Poolesville Chambers of Commerce will host representatives from AstraZeneca to discuss how the pharmaceutical industry is working around the clock, at extraordinary speed to develop a safe and effective vaccine against COVID-19. Doug Ryder, president, Holy Cross Germantown Hospital will moderate the discussion.
United in the Search of a COVID-19 Vaccine
When: Thursday, July 16, 2020
Time: 12-1:00 PM
Where: ZOOM
Register | Details: https://bit.ly/2DpNrM1
***All Members of the Media are encouraged to spread the word. ****
The GGCC is active in providing business-to-business networking opportunities throughout the year: a collective voice in local, regional, and state legislative affairs, professional development opportunities and other services that enhance the business environment.
The GGCC is located at 910 Clopper Road, Suite 205N, Gaithersburg, MD. To learn more about the GGCC visit us at www.ggchamber.org. Find us! Facebook: https://bit.ly/2NmNSpC | Twitter: @GGCCNEWS | Instagram: gburggermantownchamber #GGCCevents