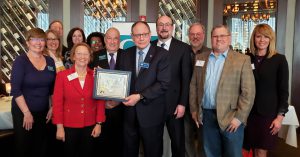 Gaithersburg, MD (March 21, 2019) – Maryland Department of Commerce Secretary Kelly Schulz presented the Gaithersburg-Germantown Chamber of Commerce (GGCC) with a citation from Governor Larry Hogan commemorating its 70-year milestone on March 20, 2019. In her remarks she applauded the Chamber on its accomplishments and sent best wishes for future success.
Montgomery County Councilmember Sidney Katz joined Schulz and presented the Chamber with a certificate declaring March 20, 2019 as "Gaithersburg-Germantown Chamber of Commerce Day" in the 3rd District of Montgomery County.
"This is an exciting year for us", said Marilyn Balcombe, GGCC President / CEO. "We have been serving the Gaithersburg-Germantown community for 70 years. It is great to receive the recognition from the Governor and Maryland Commerce Secretary Kelly Schulz."
The GGCC, located in Gaithersburg, Maryland, is a vibrant, dynamic organization of over 430 members representing more than 50,000 employees in Montgomery County. 2019 marks the celebration of 70-years of service to the Gaithersburg-Germantown communities & businesses represented by the Chamber of Commerce.
The Chamber promotes economic development and community growth to ensure the prosperity of its businesses and citizens. Since 1949, the GGCC has worked with businesses and community leaders to strengthen the local economy and increase opportunities for their residents, not only for this generation, but for generations to come.
This is a significant milestone in the organization's history and a time to honor our past, evaluate the present and with thoughtful determination look to the bright future of the Gaithersburg, Germantown, & surrounding business communities.
About the Gaithersburg-Germantown Chamber: The GGCC is active in providing business-to-business networking opportunities throughout the year: a collective voice in local, regional, and state legislative affairs, professional development opportunities and other services that enhance the business environment. The GGCC is located at 910 Clopper Road, Suite 205N, Gaithersburg, MD. To learn more about the GGCC visit us at www.ggchamber.org.
Find us on Facebook at: http://www.facebook.com/pages/Gaithersburg-Germantown-Chamber-of-Commerce/64339954570. Or on Twitter at: @GGCCNEWS. #GGCCevents #GGCCturns70