SPAGnVOLA Opens Second Location
Gaithersburg, MD – Thursday, May 9 – The Gaithersburg-Germantown Chamber of Commerce (GGCC) conducted a "Ribbon Cutting / Grand Opening" Ceremony for SPAGnVOLA. This is SPAGnVOLA's second location. It is centrally located inside Lakeforest Mall at 701 Russell Avenue, Gaithersburg. The ceremony was conducted on Friday, May 3, 2013. SPAGnVOLA's other location is in the Kentlands at 360 Main Street, Gaithersburg.
SPAGnVOLA brand is changing the world of chocolate. SPAGnVOLA manufactures, distributes and retails premium chocolate products from the Dominican Republic through their own farms. Their chocolates are handcrafted in small batches, bringing out the savor of the most exquisite premium chocolate. To learn more about SPAGnVOLA, visit: http://spagnvola.com/. 
Below: The SPAGnVOLA Ribbon Cutting Ceremony conducted by the Gaithersburg-Germantown Chamber of Commerce on May 3, 2013.  State Senator Jennie Forehand – District 17, County Executive Isiah "Ike" Leggett, City of Gaithersburg Mayor Sidney Katz and Gaithersburg Councilmembers Cathy Drzyzgula, Henry Marraffa and Ryan Spiegel helped SPAGnVOLA Owner Eric and Crisoire Reid and Justin Brooks celebrate. (Photo credit – Laura Rowles, GGCC Director of Events & Marketing)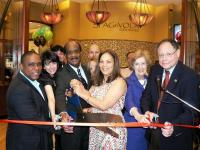 The GGCC is active in providing business-to-business networking opportunities throughout the year: a collective voice in local, regional, and state legislative affairs, professional development opportunities and other services that enhance the business environment.
The GGCC is located at 910 Clopper Road, Suite 205N, Gaithersburg, MD. To learn more about the GGCC visit us at www.ggchamber.org.
Find us on Facebook at: http://www.facebook.com/pages/Gaithersburg-Germantown-Chamber-of-Commerce/64339954570. Or on Twitter at: @GGCCNEWS.