GGCC Young Professionals Lunch & Learn on Customer Service Held
Gaithersburg, MD – Friday, July 12 –  The Gaithersburg-Germantown Chamber of Commerce (GGCC) held a Young Professionals Group Lunch & Learn on July 11 at Kaplan University on customer service.
Dawn Goldberg of Write Well University spoke to nearly 20 young professionals on "Customer Service: How to Handle Different Situations & Be Successful at It".
Goldberg shared some significant views like empathy, the importance of being you, seeing the other person as human, and solving problems. She explained that no matter what business we're in, we're all in customer service. And since it's less expensive to keep existing customers rather than enroll new ones, customer service is even more important. It's not just about "the customer is always right." It's about communicating the values of the organization in a way that is customer-centered. Goldberg covered some tools to use, and included some interactive exercises to really bring home the importance of customer service-oriented communication. 
The GGCC's Young Professionals program is a networking group of dedicated young professionals ranging in age from 21-35. Through the GGCC, young professionals can engage with other like-minded business professionals to further their career, strengthen their professional image or just meet new friends. The chamber supports the professional development of the next generation of leaders by providing opportunities for skill-building, information sharing, networking and growth of younger professionals in our chamber.
 Below: Brittany Hilton, Mid-Atlantic Federal Credit Union Marketing Specialist; Dawn Goldberg, Write Well University Chief Writing Officer and Gary Aughinbaugh, AETEA Information Technology, Inc. Senior Account Manager at the Gaithersburg-Germantown Chamber of Commerce's Young Professionals Group (YPG) Lunch & Learn on July 11, 2013. Hilton & Aughinbaugh are the co-chairs of the YPG Group. (Photo credit – Laura Rowles, GGCC Director of Events & Marketing)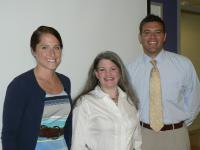 Contact Information:
Gaithersburg-Germantown Chamber of Commerce
Laura Rowles
(301) 840-1400 x14

The GGCC is active in providing business-to-business networking opportunities throughout the year: a collective voice in local, regional, and state legislative affairs, professional development opportunities and other services that enhance the business environment.
The GGCC is located at 910 Clopper Road, Suite 205N, Gaithersburg, MD. To learn more about the GGCC visit us at www.ggchamber.org.
Find us on Facebook at: http://www.facebook.com/pages/Gaithersburg-Germantown-Chamber-of-Commerce/64339954570. Or on Twitter at: @GGCCNEWS.