GGCC Holds Business Card Exchange Lunch at Paisano's
The Gaithersburg-Germantown Chamber of Commerce (GGCC) held their first "Business Card Exchange Lunch" of the year at Paisano's Pizza on Wednesday, February 26, 2014. Paisano's is located at 824 Muddy Branch Road in Gaithersburg.
Paisano's Pizza is a family owned franchise specializing in pizza, pasta, calzones, subs and salads. All of their menu items are made fresh to order.
Nearly 50 GGCC Members enjoyed a great networking lunch while enjoying spaghetti, fettuccine Alfredo, meatballs, a smorgasbord of 12 Paisano's specialty pizzas, salad and Tiramisu, cannoli's, cheesecake and brownies for dessert.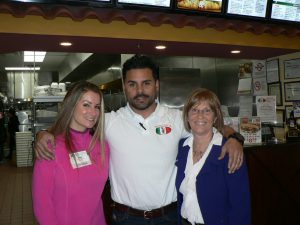 (l:r) GGCC Member's & Owners of Paisano's Pizza Kelly Torray and Alex Garcia-Gachez with GGCC Executive Director Marilyn Balcombe at the Gaithersburg-Germantown Chamber's Business Card Exchange Lunch held on February 26, 2014.
(Photo credit – Laura Rowles, GGCC Director of Events & Marketing)

The GGCC is active in providing business-to-business networking opportunities throughout the year: a collective voice in local, regional, and state legislative affairs, professional development opportunities and other services that enhance the business environment.
The GGCC is located at 910 Clopper Road, Suite 205N, Gaithersburg, MD. To learn more about the GGCC visit us at www.ggchamber.org.
Find us on Facebook at: http://www.facebook.com/pages/Gaithersburg-Germantown-Chamber-of-Commerce/64339954570. Or on Twitter at: @GGCCNEWS.