GGCC Conducts Ribbon Cutting for Operation Second Chance
The Gaithersburg-Germantown Chamber of Commerce (GGCC) conducted a "Ribbon Cutting / Grand Opening" Ceremony for Operation Second Chance. Operation Second Chance is located at 20251 Century Boulevard, Suite 130 in Germantown. The ceremony was conducted on Tuesday, February 25, 2014.
Operation Second Chance supports wounded service members returning from Iraq & Afghanistan transition back to duty and to civilian life. Learn more about them at: www.operationsecondchance.org.
Operation Second Chance began in 2004 when President and Founder Cindy McGrew learned of three soldiers that were injured and en route to Walter Reed Army Medical Center. She immediately sent emails to the families to offer her support and assistance. From that day, life long bonds and friendship have developed. Over the years, Operation Second Chance has grown. This simple mission became something much larger than they imagined.
This Ribbon Cutting Ceremony was like no other, as it was a community of GGCC Members coming together or a great cause. Tom Plant, Managing Partner for Paul Davis Restoration and Remodeling, supporting Operation Second Chance heard that McGrew's organization needed a home and he helped them do so when he reached out to Matan Companies.
Matan gave up an office inside their Century Boulevard suite to McGrew. Just recently, Matan decided to donate an entire Suite (across the hall from where they were) to Operation Second Chance. Paul Davis then donated their services sprucing the suite up to the amazing office it has become.
Additionally, Chamber Members My Realty Team & Metropolitan Ballet Theater have also recently made partnerships with Operation Second Chance offering their expertise and services.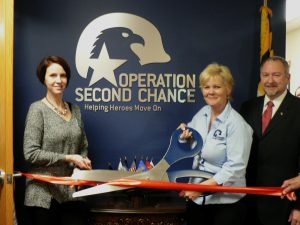 (l:r) GGCC Board Member & Maryland Leadership Workshops Executive Director Anita Anderson, Operation Second Chance President & Founder Cindy McGrew and Operation Second Chance Director of Operations Rich Glover cut the ribbon marking the official grand opening of their new suite on February 25, 2014.
(Photo credit – Laura Rowles, GGCC Director of Events & Marketing)

The GGCC is active in providing business-to-business networking opportunities throughout the year: a collective voice in local, regional, and state legislative affairs, professional development opportunities and other services that enhance the business environment.
The GGCC is located at 910 Clopper Road, Suite 205N, Gaithersburg, MD. To learn more about the GGCC visit us at www.ggchamber.org.
Find us on Facebook at: http://www.facebook.com/pages/Gaithersburg-Germantown-Chamber-of-Commerce/64339954570. Or on Twitter at: @GGCCNEWS.