The Chamber's Young Professional of the Year Award recognizes and celebrates the accomplishments of a highly motivated, emerging leader of our Young Professional's group.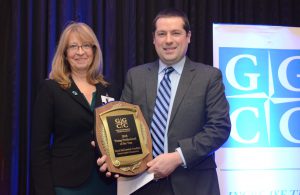 Past Winners Recipients:
2018: David McCormick-Goodhart, Savant Capital Management
2017: Brett Rough, Aerotek
2016: Brooke Bruch, Contemporaries, Inc
2015: PJ Horan, Mass Mutual Greater Washington
2014: Brittany Hilton, Mid-Atlantic Federal Credit Union
2013: Brett Friedman, DeLeon & Stang, CPAs & Advisors
Deadline for entries is in November and are accepted either via mail or email. The award is presented at the GGCC's Celebration Dinner & Awards Ceremony held in December. The winner is invited to attend as our guest of honor.