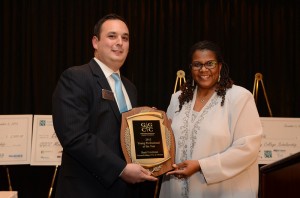 What Is It?
The chamber's Young Professional of the Year Award recognizes and celebrates the accomplishments of a highly motivated, emerging leader of the Chamber's Young Professional's group.
Criteria:
You

must be a member of the GGCC

.
You must be an active member of the GGCC's Young Professional Group.
Applicant should demonstrate excellence, creativity, and show initiative in their company or profession.
Applicant should provide valuable service by contributing time and energy in service to community.
Applicant shall clearly serve as a role model for others personally and professionally.
Must be between the ages of 21-40 years old.
At least 1 or more years of professional experience in your current career.
Decision:
The winner of the Young Professional of the Year award will be determined by committee review of the applications.
Application Deadline:
Deadline for entries is in November and are accepted either via mail or email. The award is presented at the GGCC's Celebration Dinner & Awards Ceremony held in December. The winner is invited to attend with one guest as our guest of honor.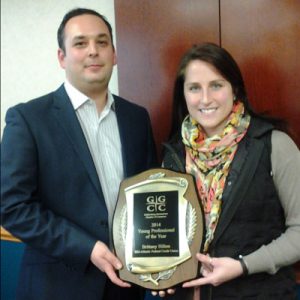 Previous Recipients:
2018: David McCormick-Goodhart, Savant Capital Management
2017: Brett Rough, Aerotek
2016: Brooke Bruch, Contemporaries, Inc
2015: PJ Horan, Mass Mutual Greater Washington
2014: Brittany Hilton, Mid-Atlantic Federal Credit Union
2013: Brett Friedman, DeLeon & Stang, CPAs & Advisors
To Apply:
Complete this application and email to lrowles@ggchamber.org.