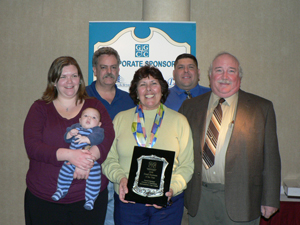 2008 SBY Award Recipient – Germantown Copy Center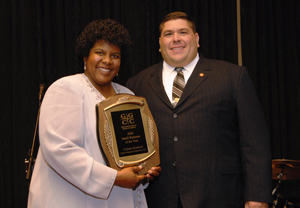 Colette Releford, Owner of Strive Business Solutions, was the 2009 Small Business of the Year Award recipient.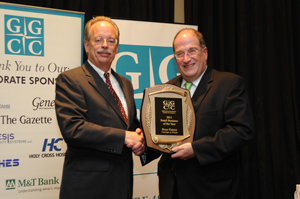 Sam McNamee, President of Signs of Progress and 2011 SBY recipient, presents Cartridge on Wheels Owner Bruce Kanner with the 2012 SBY Award plaque.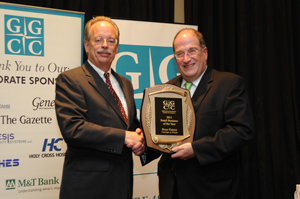 What Is It?
The chamber's Small Business of the Year Award recognizes small businesses, which are a vital part of our economy and community. The award is presented to the small business that demonstrates success, community involvement, and excellent customer relations.
Criteria:
You must be a member of the GGCC. Your business must have less than ten (10) full time employees to qualify as a GGCC Small Business. You must fill out this application completely. Incomplete applications will not be considered. Prior winners are not encouraged to apply.
Decision:
The winner of the Small Business of the Year award will be determined by committee review of the applications.
Application Deadline:
Deadline for entries is in November and are accepted either via mail or email. The award is presented at the GGCC's Celebration Dinner & Awards Ceremony held in December. The winner is invited to attend with one guest as our guest of honor.
Previous Recipients:
2018: Auxilium Technology
2017: Crown Trophy
2016: Metropolitan Ballet Theatre and Academy
2015: ELaunchers
2014: Pinky & Pepe's Grape Escape
2013: Soldierfit
2012: Authxperts, LLC
2011: Cartridge on Wheels
2010: Signs of Progress
2009: Strive Business Solutions
2008: Germantown Copy Center
2007: Follow Your Heart Yoga
To Apply:
Complete this application and email to lrowles@ggchamber.org.