Affinity Programs with The GGCC
The Gaithersburg-Germantown Chamber of Commerce is committed to helping its members cut costs and save money whenever possible in an ever changing economic environment. By taking advantage of these offers, we hope it will save you money.


Commercial Energy CO-OP
When commercial energy purchasing was deregulated in Maryland in 2002, the Gaithersburg Germantown Chamber partnered with CQI Associates to establish a Commercial Energy Purchasing Cooperative for its members. Since then, the Gaithersburg Germantown Chamber of Commerce – CQI Energy Cooperative has helped hundreds of area businesses realize long-term budget stability.
Benefits of the Gaithersburg Germantown Chamber Commercial Energy Cooperative:
Increased Purchasing Power in procuring electric and natural gas at competitive rates to businesses,
Eliminates the need to 'go through it alone'.
Historically, the average co-op member Saves about the equivalent of their July electrical bill and/or their February natural gas bill. When compared to utility S.O.S. rates
Budget Stability (no more 'roller coaster costs') by offering
Fixed Rate energy supply costs.
Assistance in being Proactive in fulfilling energy buying needs.
We offer the opportunity for businesses to share in the valuable energy Expertise that the cooperative provides.
This program offers FREE informational seminars and webinars about energy deregulation and valuable insight into energy procurement options. CQI manages the member education and bid phases of the program, oversees the transition of the members' energy accounts, and offers continuing technical expertise to members throughout the term of the energy contracts.
Learn how your business can benefit from joining the Gaithersburg Germantown Chamber of Commerce – CQI Commercial Energy Purchasing Cooperative by visiting www.cqiassociates.com or calling 443-472-3870 for more information.
Residential Energy CO-OP
In addition to commercial energy procurement, CQI Associates is also a leader in the Chamber Residential Energy Purchasing Cooperative. CQI offers competitive fixed supply rates to the chamber residential energy cooperative members. To learn more or to sign up, go to www.cqiassociates.com/residential When signing up, please designate the Gaithersburg Germantown Chamber of Commerce.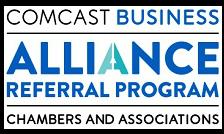 Comcast Business
Are you looking for reliable and cost-effective business phone, internet and ethernet services? Let one of our Chamber staff members know and we will refer you in our Comcast Business Alliance program.
The Alliance Referral Program is a referral program that allows direct Comcast Business Sales Representatives to partner with local Chambers and/or Associations to promote Comcast Business and deliver premium services.
With Comcast Business you can receive products including:
Business Internet

A fast, reliable connection, with 24/7 customer support, a private business WiFi connection and more

Business TV Service

For restaurants and bars, TV service allows your clientele to get the games and shows they're looking for, plus you get great deals when you subscribe to 8 or more outlets
For the office, Comcast TV service can make wait times feel shorter, make break times more relaxed, and simply keeps everyone informed of the latest and greatest in news and entertainment.

Cloud Solutions

Comcast Business Cloud Solutions gives a simple entry point to the cloud, so you can manage all your software subscriptions, tryout new programs, download them, and much more, all on a single login.

Comcast Phone

Various Phone Options including Comcast Business VoiceEdge Select™ , an all-in-one phone solution to help small businesses make a big impression
Ready to learn more? Contact us at 301.840.1400 or info@ggchamber.org so we can refer you to our Comcast specialist.