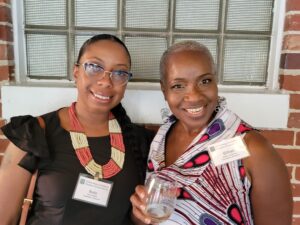 Gaithersburg /Germantown, MD (May 11, 2022) – The Gaithersburg-Germantown Chamber of Commerce (GGCC) is announcing the return of its Annual Wine Tasting, in person.
On the evening of May 19, 2022,  the invites you to a fantastic evening of food, wine, networking, and more. Sip wine and enjoy Spring's beauty at the Chamber's 19th Annual Wine Tasting at the Kentlands Mansion. This is an event you will not want to miss. Tickets are only $35 each and include admission, a wine-tasting glass, and food & wine tastings.
"Relationship building is essential to keeping business running smoothly," said Marilyn Balcombe, GGCC President / CEO. "Attending the Chamber's wine tasting allows you to cultivate relationships in a fun, business casual social environment."
This year's wine tasting features a guided wine tasting tutorial with featured wines compliments of Vine Alley & mead from Clear Skies Meadery.    
The wine will be paired with delicious, mouth-watering food from GGCC Restaurant Members; bundtinis from Nothing Bundt Cakes &  Kon's Kakes & Treats.
Sponsors include:
Supporting Sponsors
Bargain Movers
Crown Trophy 
Cost: Tickets are $35 for GGCC Members & First-Time Visitors; and $65 for Returning Non-Members. Advance registration is required.
Annual Wine Tasting
When: Thursday, May 19, 2022
Time: 5:00-7:00 PM
Where: Kentlands Mansion, 320 Kent Square Road, Gaithersburg, MD 20878
Tickets | Sponsorship | Details: https://bit.ly/3slTx6B
***All Members of the Media are encouraged to spread the word. ****
The GGCC is active in providing business-to-business networking opportunities throughout the year: a collective voice in local, regional, and state legislative affairs, professional development opportunities and other services that enhance the business environment.
The GGCC is located at 910 Clopper Road, Suite 205N, Gaithersburg, MD. To learn more about the GGCC visit us at www.ggchamber.org. Find us! Facebook: https://bit.ly/2NmNSpC | Twitter: @GGCCNEWS | Instagram: gburggermantownchamber #GGCCevents