GGCC Young Professionals Group Celebrates One-Year
Gaithersburg, MD – Tuesday, May 14 – On Wednesday, May 8, the Gaithersburg-Germantown Chamber of Commerce (GGCC) celebrated the one-year anniversary of its best kept secret – it's Young Professionals Group (YPG). The Chamber's YPG is packed with lots of enthusiasm and high aspirations from happy hours, to lunch and learns to committee meetings. The mission of the group is to make the Gaithersburg-Germantown communities and surrounding areas a great place to live and work by harnessing the strength of our communities to make positive change. "We are so proud of our Young Professionals Group. It is a great opportunity for them to hone their networking skills and to increase the value of their business," said Marilyn Balcombe, GGCC President/CEO.
The YPG's started on May 2, 2012 when 33 people attended their first ever event – a Happy Hour at the Melting Pot. They continued with their first lunch and learn on June 14, where 14 eager young professionals learned the art of the 30-second elevator pitch from Colette Releford of Strive Business Solutions.
July was another happy hour at the Melting Pot followed by a lunch and learn in September at DeLeon & Stang where Joe Porpiglia of D&D Consulting and Training & Trina LaPier of the Gazette taught them "How to Convince Your Boss of the Value of Something".
On October 3 twenty-three young professionals joined together for a happy hour at the Melting Pot. And in December they partnered with the Johns Hopkins University Montgomery County Campus for a Business Networking After Five / Young Professionals Get Together.
In January, the Chamber's own Board Chairman Ron Dimaranan spoke to 33 Young Professionals  on "How to Effectively Network"; their best showing at a lunch and learn. February was a well-attended happy hour at Buca di Beppo in the Kentlands.
In April they had their first ever community service event, the Chamber's Young Professionals Group gathered at the Manna Food Center warehouse and packed 192 boxes with non-perishable food items that would be later distributed to Manna clients.
And on May 8th several Board Members, Chamber Members and Staff joined together to celebrate their one-year anniversary with a spring picnic at Smokey Glen Farm Barbequers, Inc.
 "Being a co-chair for the young professionals has been an exciting adventure. We couldn't be more pleased with the way our group has grown over the past year.  I have seen business connections and skills develop in many of the young professionals who have participated in our events. Our one year anniversary event was an exciting milestone and I look forward to seeing what exciting events are in store as our group continues to grow," said Brittany Hilton, Marketing Specialist Mid-Atlantic Federal Credit Union.
 
To learn more about the Chamber's YPG, visit: www.ggchamber.org/young.   
Below: (l:r) Elise Kirkland, Regional Interactive Marketing Manager, B. F. Saul Hospitality Group;  Brittany Hilton, Marketing Specialist, Mid-Atlantic Federal Credit Union and Dan Nail, Senior Sales Consultant, Paychex, Inc. at the GGCC's Young Professionals One-Year Anniversary Celebration on May 8, 2013.  (photo credit: Laura Rowles, GGCC Director of Marketing)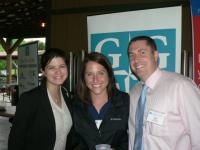 The GGCC is active in providing business-to-business networking opportunities throughout the year: a collective voice in local, regional, and state legislative affairs, professional development opportunities and other services that enhance the business environment.
The GGCC is located at 910 Clopper Road, Suite 205N, Gaithersburg, MD. To learn more about the GGCC visit us at www.ggchamber.org.
Find us on Facebook at: http://www.facebook.com/pages/Gaithersburg-Germantown-Chamber-of-Commerce/64339954570. Or on Twitter at: @GGCCNEWS.