GGCC Young Professional Group Holds Happy Hour
The Gaithersburg-Germantown Chamber of Commerce (GGCC) held a Young Professional Group Happy Hour last week at the Melting Pot, located at 9021 Gaither Road in Gaithersburg. The event was sponsored by the Melting Pot and title sponsor Mid-Atlantic Federal Credit Union (MAFCU).
Our Young Professionals Group is packed with lots of enthusiasm and high aspirations. Nearly 40 emerging leaders came to the event and discovered how this group can further their career and strengthen their professional image.
This Young Professionals Group Happy Hour was sponsored by the Melting Pot Gaithersburg. The Melting Pot offers sophisticated fondue prepared tableside in the Swiss tradition. Patrons can enjoy a fabulous four course fondue meal and fine wines. Learn more about them at: www.meltingpot.com.
The Chamber was also able to announce the 2014 Young Professionals Group Title Sponsor: MAFCU. MAFCU is a not-for-profit financial institution serving all of Montgomery County. Learn more about them at: www.mafcu.org.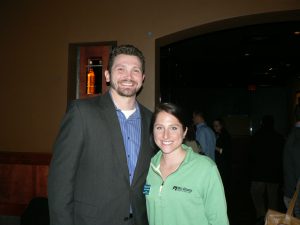 (l:r) The Melting Pot Gaithersburg welcomed GGCC Members at a GGCC Young Professional Happy Hour. Pictured are Melting Pot Assistant Manager Jon Prettyman and MAFCU Marketing Specialist and GGCC Board Member Brittany Hilton.  

The GGCC is active in providing business-to-business networking opportunities throughout the year: a collective voice in local, regional, and state legislative affairs, professional development opportunities and other services that enhance the business environment.
The GGCC is located at 910 Clopper Road, Suite 205N, Gaithersburg, MD. To learn more about the GGCC visit us at www.ggchamber.org.
Find us on Facebook at: http://www.facebook.com/pages/Gaithersburg-Germantown-Chamber-of-Commerce/64339954570. Or on Twitter at: @GGCCNEWS.