GGCC Hosts Non-Profit Showcase
Gaithersburg /Germantown, MD (September 24, 2013) – The Gaithersburg-Germantown Chamber of Commerce's (GGCC) showed its commitment to volunteerism by giving its non-profit members the opportunity to "showcase" their organizations and communicate their role in our business community at its Business Networking after Five event held on Thursday, September 19, 2013.
"Our non-profits do really important work for the community. It is our great pleasure to give them an opportunity to show-case their organizations," said Marilyn Balcombe, GGCC President/CEO.
The event, held at and sponsored by Smokey Glen Farm Barbequers, Inc. in Gaithersburg, had 16 non-profit organizations in attendance, they included:
American Cancer Society
BlackRock Center for the Arts
BrightFocus Foundation
Casey Health Institute
Cornerstone Montgomery (formerly St Luke's House)
Corporate Volunteer Council of Montgomery County
Family Services, Inc.
Habitat for Humanity of Montgomery County, MD, Inc.
Hospice Caring, Inc.
Jones Center/CHI Centers, Inc.
Maryland Division of Rehabilitation Services
Mercy Health Clinic
Metropolitan Ballet Theatre and Academy
Montgomery County – Solid Waste Services
Second Chance Wildlife Center
The ARC of Montgomery County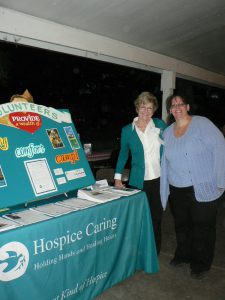 (l:r) Hospice Caring's Penny Gladhill & Monica Czaplinski were one of the 16 non-profit organizations in the non-profit showcase at the GGCC's Annual Picnic and Volunteer Recognition on September 19, 2013.
(Photo credit – Laura Rowles, GGCC Director of Marketing)

The GGCC is active in providing business-to-business networking opportunities throughout the year: a collective voice in local, regional, and state legislative affairs, professional development opportunities and other services that enhance the business environment.
The GGCC is located at 910 Clopper Road, Suite 205N, Gaithersburg, MD. To learn more about the GGCC visit us at www.ggchamber.org.
Find us on Facebook at: http://www.facebook.com/pages/Gaithersburg-Germantown-Chamber-of-Commerce/64339954570. Or on Twitter at: @GGCCNEWS.