GGCC Holds Mixer at the Montgomery TennisPlex
Gaithersburg, MD – Wednesday, June 5 – The Gaithersburg-Germantown Chamber of Commerce (GGCC) held a Business Networking Before Nine (BNBN) on June 4 at the Montgomery TennisPlex, located inside the South Germantown Recreational Park at 18010 Central Park Circle in Boyds. The event was sponsored by the Montgomery TennisPlex and the Maryland SoccerPlex & Discovery Sports Center.
The South Germantown Recreational Park is home to the Maryland Soccer Foundation, the Maryland SoccerPlex, the Discovery SportsCenter, Splash Playground, Indoor Swim Center, the King Dairy Mooseum, South Germantown Driving Range, the Washington Nationals Miracle Field, picnic areas, ball fields, basketball courts, Adventure Playground, Archery Range, hiker/biker trails and the newest addition the Montgomery TennisPlex – where the BNBN was held.
Over 35 Chamber Members gathered for some delicious pastry treats from Vie de France in Rockville and were able to hit the courts and play some tennis before heading into the office. The TennisPlex had clinics and coaches on hand ready to teach and play. Coaches included: Patrizio Allendes, Vivian Bacareza and Eleni Fotaki.
"It was a great morning of networking, connecting, and even some exercise! The Germantown SoccerPlex and the new TennisPlex are such important assets to our community. We are very fortunate to have them in our backyard," said Marilyn Balcombe, GGCC Executive Director.
Below: (l:r) The SoccerPlex & TennisPlex Executives welcomed GGCC Members at its networking event on June 4, 2013. Pictured are Montgomery TennisPlex Program Director Vicki Datlow & General Manager Kevin Dowdell and Maryland Soccer Foundation Executive Director Trish Heffelfinger. Learn more about the Montgomery TennisPlex at: www.montgomerytennisplex.com.  Learn more about the Maryland SoccerPlex & Discovery Sports Center at: www.mdsoccerplex.org.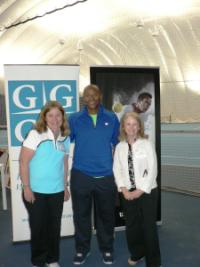 The GGCC is active in providing business-to-business networking opportunities throughout the year: a collective voice in local, regional, and state legislative affairs, professional development opportunities and other services that enhance the business environment.
The GGCC is located at 910 Clopper Road, Suite 205N, Gaithersburg, MD. To learn more about the GGCC visit us at www.ggchamber.org.
Find us on Facebook at: http://www.facebook.com/pages/Gaithersburg-Germantown-Chamber-of-Commerce/64339954570. Or on Twitter at: @GGCCNEWS.