GGCC Holds Mixer at Kaplan University Rockville
Gaithersburg, MD – Wednesday, April 10 – The Gaithersburg-Germantown Chamber of Commerce (GGCC) held a Business Networking Before Nine (BNBN) on April 10 at Kaplan University Rockville Campus, 1390 Piccard Drive, Suite 100, Rockville. Kaplan University Learning Center Rockville & Corner Bakery Gaithersburg were the sponsors of the event.
"What I love about our networking events is the great team effort. We had Kaplan providing a fantastic venue, the Corner Bakery providing the food, one of our Board members was emcee and a whole lot of members networking.  It all provided a great way to start the day." said Marilyn Balcombe, GGCC President
Kaplan University offers more than 150 academic programs, including masters, bachelors and associate degrees. Learn more about them at: www.rockville.kaplanuniversity.edu.
Corner Bakery is a bakery-cafe offering sandwiches, soups, pastas, salads and desserts for dine-in or take out. We also provide a world-class catering service. Learn more about them at: www.cornerbakerycafe.com.
Below: (l:r) Corner Bakery's Regional Marketing Representative Hope Lacaria and Catering Supervisor DaShawn Coleman with Kaplan University Rockville Campus Career Development Manager Michelle Fox and Director of Business Development Steve Shinham at the Gaithersburg-Germantown Chamber Business Networking Before Nine on April 9, 2013.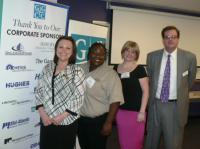 The GGCC is active in providing business-to-business networking opportunities throughout the year: a collective voice in local, regional, and state legislative affairs, professional development opportunities and other services that enhance the business environment.
The GGCC is located at 910 Clopper Road, Suite 205N, Gaithersburg, MD. To learn more about the GGCC visit us at www.ggchamber.org.
Find us on Facebook at: http://www.facebook.com/pages/Gaithersburg-Germantown-Chamber-of-Commerce/64339954570. Or on Twitter at: @GGCCNEWS.