GGCC Holds Mixer at Country Casual
Gaithersburg, MD – Friday, March 22 – The Gaithersburg-Germantown Chamber of Commerce (GGCC) held a Business Networking After Five (BNAF) on March 21 at Country Casual, located at 7601 Rickenbacker Drive in Gaithersburg.
Since 1977, Country Casual has designed and manufactured outdoor teak furniture in the market. Attendees heard Chief Operating Officer Dana Goldstein "We are excited to have Country Casual as a new member of the GGCC.  The event gave the chamber members the opportunity to see the quality of the products and services that they provide," said Ron Dimaranan, GGCC Board Chairman & Director of Business Development for Mid-Atlantic Federal Credit Union.
The Chamber is a business organization that strengthens, enhances & protects businesses and affords businesses the opportunity to build those relationships. The GGCC members want to showcase the value of our Chamber by sharing their success story with attendees at events. At this BNAF, BlackRock Center for the Arts Development Director Anita Anderson told her story on how BlackRock works with not just one but many Chamber Members. Anderson says, "As a non-profit, we're always looking to build relationships that will assist us in our mission of engaging our community to explore and experience the arts." She went on to thank twenty-four GGCC Members including: DeLeon & Stang, CPAs & Advisors, The Gazette; Holy Cross Hospital; Lerch, Early & Brewer, Chartered; Minkoff Development; Montgomery College; OBA Bank; Rodgers Consulting and Shady Grove Adventist Hospital. BlackRock does around $40,000 worth of business per year with Chamber members. The story was videotaped and shared on the Chamber's You Tube page at: http://youtu.be/TJA2jAL1i-I
Below: The Country Casual team welcomed over 60 GGCC Members at its networking event on March 21, 2013. Pictured is the Country Casual Team – Zach Hibbard , Madeline Fairbanks, Rebecca Swisher, President Bobbie Goldstein; Chief Operating Officer Dana Goldstein, Nicolette Powell, Emory Attig, Steven Gorlewski; Kimberly Asner; Sandy Williams; Homa Nowrouzi and Theresa Catlin. Learn more about Country Casual at: www.countrycasual.com.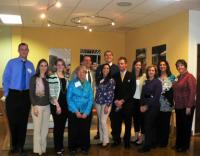 The GGCC is active in providing business-to-business networking opportunities throughout the year: a collective voice in local, regional, and state legislative affairs, professional development opportunities and other services that enhance the business environment.
The GGCC is located at 910 Clopper Road, Suite 205N, Gaithersburg, MD. To learn more about the GGCC visit us at www.ggchamber.org.
Find us on Facebook at: http://www.facebook.com/pages/Gaithersburg-Germantown-Chamber-of-Commerce/64339954570. Or on Twitter at: @GGCCNEWS.