GGCC Conducts Ribbon Cutting for Paisano's
Gaithersburg, MD – Tuesday, September 10 – The Gaithersburg-Germantown Chamber of Commerce (GGCC) conducted a "Ribbon Cutting / Grand Opening" Ceremony for Paisano's. The restaurant is located at 824 Muddy Branch Road in Gaithersburg. The ceremony was conducted on Monday, September 9, 2013.
Paisano's Pizza is a family owned franchise specializing in pizza, pasta, calzones, subs and salads. All of their menu items are made fresh to order. Learn more about them at: www.pizzapaisanos.com.
Below: Paisano's Owners Petros Marafatsos, Kelly Torray and Alex Garcia; City of Gaithersburg Mayor Sidney Katz and Councilmember Cathy Drzyzgula and Paisano's Simon Haddad celebrate the grand opening of Paisano's in Gaithersburg on September 9, 2013. (l:r).
(Photo credit – John Keith, John Keith Photography)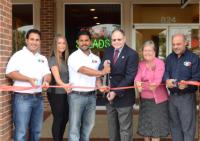 Contact Information:
Gaithersburg-Germantown Chamber of Commerce
http://www.ggchamber.org
Laura Rowles
(301) 840-1400 x14
lrowles@ggchamber.org

The GGCC is active in providing business-to-business networking opportunities throughout the year: a collective voice in local, regional, and state legislative affairs, professional development opportunities and other services that enhance the business environment.
The GGCC is located at 910 Clopper Road, Suite 205N, Gaithersburg, MD. To learn more about the GGCC visit us at www.ggchamber.org.
Find us on Facebook at: http://www.facebook.com/pages/Gaithersburg-Germantown-Chamber-of-Commerce/64339954570. Or on Twitter at: @GGCCNEWS.