GGCC Conducts Ribbon Cutting for Metropolitan Ballet Theatre and Academy
The Gaithersburg-Germantown Chamber of Commerce (GGCC) conducted a "Ribbon Cutting" Ceremony for Metropolitan Ballet Theatre and Academy (MTB).
Metropolitan Ballet Theatre and Academy is located at 220 Perry Parkway in Gaithersburg. The ceremony was conducted on Wednesday, September 24, 2014.
"We are so proud of our community today. The support for arts education in Montgomery County and for our new facility in Gaithersburg has been overwhelming. We brought a 25 year history to this new space and we look forward to another 25 years in service to our community here. The space not only represents a physical expansion, but a programmatic expansion as well. Our academy classes, outreach to under-served youth and seniors, and our performance opportunities all will flourish here," said Paula Ross, MTB Executive Director.
MTB is a 501(c)(3) nonprofit arts education organization, providing premier dance education, professional productions, and arts outreach to the community. MBT offers professional instruction in a nurturing environment to all who are interested, regardless of physical limitations or future aspirations. MBT trains dancers in ballet, jazz, modern, tap and hip hop through The Academy with dance studios in Gaithersburg, MD and gives academy students the opportunity to perform with in professional performances alongside professional artists. Learn more about them at: www.mbtdance.org.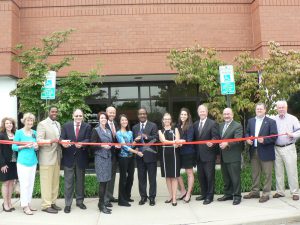 (l:r) Laurie Edberg, Special Assistant to Senator Barbara Mikulski; State Senator Jennie Forehand; Montgomery County Councilmember Craig Rice; City of Gaithersburg Mayor Sidney Katz; Anita Anderson, MTB Board President; Congressman John Delaney; Erica Hwang, Ex-Officio, MBT Board of Directors; Montgomery County Executive Isiah "Ike" Leggett; Paula Ross, MTB Executive Director; Elizabeth Odell Catlett, MTB Artistic Director; Montgomery County Councilmember Phil Andrews; Montgomery County Councilmember George Leventhal; City of Gaithersburg Councilmember Jud Ashman and David Edgerley, Sonabank and GGCC Board Chair at the Gaithersburg-Germantown Chamber conducted Ribbon Cutting Ceremony for the Metropolitan Ballet Theatre and Academy on September 24, 2014.
(Photo credit – Laura Rowles, GGCC Director of Events & Marketing)

The GGCC is active in providing business-to-business networking opportunities throughout the year: a collective voice in local, regional, and state legislative affairs, professional development opportunities and other services that enhance the business environment.
The GGCC is located at 910 Clopper Road, Suite 205N, Gaithersburg, MD. To learn more about the GGCC visit us at www.ggchamber.org.
Find us on Facebook at: http://www.facebook.com/pages/Gaithersburg-Germantown-Chamber-of-Commerce/64339954570. Or on Twitter at: @GGCCNEWS.