GGCC Conducts Ribbon Cutting for Launch Workplaces
The Gaithersburg-Germantown Chamber of Commerce (GGCC) conducted a "Ribbon Cutting" Ceremony for Launch Workplaces, located at 9841 Washingtonian Boulevard in Gaithersburg. The ceremony was conducted on Thursday, November 6, 2014.
Launch Workplaces is a hybrid workplace center that offers flexible, affordable choices of private offices, open co-working area, conference rooms and lounges. Learn more about them at: www.launchworkplaces.com.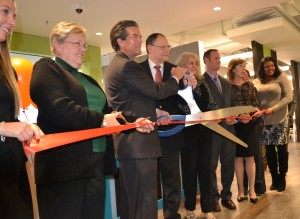 (l:r) Colby Wright, Executive Administrator, Launch Workplaces; Cathy Drzyzgula, City of Gaithersburg Councilmember; Lex Birney, CEO of The Brick Companies; City of Gaithersburg Mayor Sidney Katz; Kathleen Mayer, First National Bank and GGCC Board member; Mark McMahon, Director of Operations, Launch Workplaces; Cindie Harrison, Montgomery County Department of Economic Development; Laurie Edberg, Special Assistant to Senator Barbara Mikulski; Nichelle Dyson, Executive Administrator, Launch Workplaces, at the Gaithersburg-Germantown Chamber conducted Ribbon Cutting Ceremony for Launch Workplaces in Gaithersburg on November 6, 2014.

The GGCC is active in providing business-to-business networking opportunities throughout the year: a collective voice in local, regional, and state legislative affairs, professional development opportunities and other services that enhance the business environment.
The GGCC is located at 910 Clopper Road, Suite 205N, Gaithersburg, MD. To learn more about the GGCC visit us at www.ggchamber.org.
Find us on Facebook at: http://www.facebook.com/pages/Gaithersburg-Germantown-Chamber-of-Commerce/64339954570. Or on Twitter at: @GGCCNEWS.