GGCC Conducts Ribbon Cutting for Curves
The Gaithersburg-Germantown Chamber of Commerce (GGCC) conducted a "Ribbon Cutting" Ceremony for Curves, located at 17 North Summit Avenue, Suite C in Gaithersburg. The ceremony was conducted on Tuesday, January 13, 2015.
Curves is a fitness facility especially designed for women featuring a total body workout in 30 minutes that is fun, fast and safe. Learn more about them at: www.curves.com.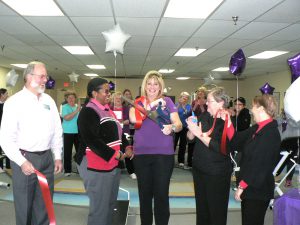 (l:r) Jerry Therrien, President, Therrien Waddell, Inc.; Colette Releford, Marketing Executive; Gazette Newspapers; Faith Zimmerman, Owner of Curves; Cathy Drzyzgula, City of Gaithersburg Councilmember and ; Marilyn Balcombe, GGCCPresident & CEO at the Gaithersburg-Germantown Chamber conducted Ribbon Cutting Ceremony for Curves in Gaithersburg on January 13, 2015.

The GGCC is active in providing business-to-business networking opportunities throughout the year: a collective voice in local, regional, and state legislative affairs, professional development opportunities and other services that enhance the business environment.
The GGCC is located at 910 Clopper Road, Suite 205N, Gaithersburg, MD. To learn more about the GGCC visit us at www.ggchamber.org.
Find us on Facebook at: http://www.facebook.com/pages/Gaithersburg-Germantown-Chamber-of-Commerce/64339954570. Or on Twitter at: @GGCCNEWS.