GGCC Conducts Ribbon Cutting for Café Rio
Gaithersburg /Germantown, MD (November 5, 2013) – The Gaithersburg-Germantown Chamber of Commerce (GGCC) conducted a "Ribbon Cutting / Grand Opening" Ceremony for Cafe Rio Mexican Grill, located at 20680 Seneca Meadows Parkway in Germantown.
Cafe Rio Mexican Grill is rated the #1 Mexican restaurant in the Country, serves the freshest Mexican food around. Learn more about Cafe Rio at www.caferio.com.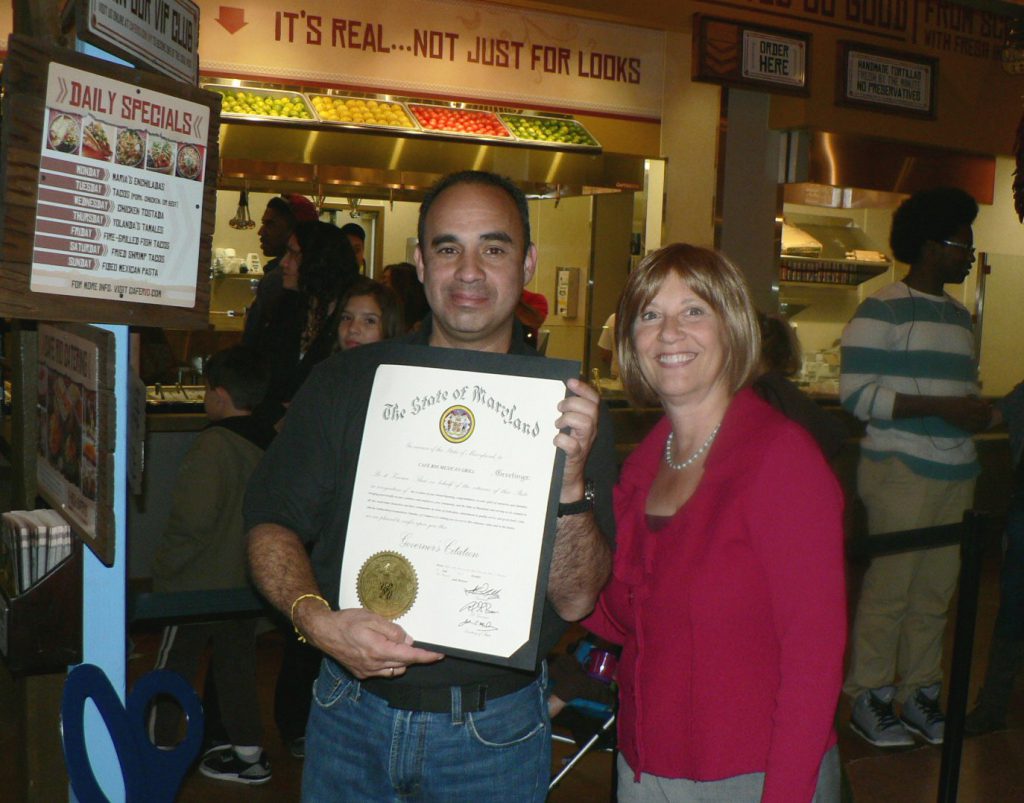 (l:r) Cafe Rio Mexican Grill General Manager Xavier Villarvoel accepts the "Governor's Citation" from GGCC Executive Director Marilyn Balcombe commemorating their grand opening.
(Photo credit – Laura Rowles, Director of Events and Marketing)

The GGCC is active in providing business-to-business networking opportunities throughout the year: a collective voice in local, regional, and state legislative affairs, professional development opportunities and other services that enhance the business environment.
The GGCC is located at 910 Clopper Road, Suite 205N, Gaithersburg, MD. To learn more about the GGCC visit us at www.ggchamber.org.
Find us on Facebook at: http://www.facebook.com/pages/Gaithersburg-Germantown-Chamber-of-Commerce/64339954570. Or on Twitter at: @GGCCNEWS.