GGCC Conducts Ribbon Cutting for 555 Lounge
Gaithersburg, MD – Tuesday, September 10 – The Gaithersburg-Germantown Chamber of Commerce (GGCC) conducted a "Ribbon Cutting / Grand Opening" Ceremony for 555 Lounge. The restaurant is located at 555 Quince Orchard Road in Gaithersburg. The ceremony was conducted on Friday, September 6, 2013.
Classy, Unique and alive… these are the words to describe newest lounge in Gaithersburg. The candle light setting illuminates the room matching the vibrant colors of the decor inside, which leaves you feeling ready to start your night and indulge yourself in the atmosphere. 555 Lounge offers elegant private seating, a dance floor as well as areas with ambient background music or live entertainment on certain nights. For holiday parties, to corporate mixers, 555 Lounge can accommodate your special event needs. Learn more about them at: www.555lounge.com.
"As a GGCC board member and Vice Chair of Membership it's always a privilege to support new members and the business community. It was a double please to support someone I also do business with. This just supports my belief that I belong to the best Chamber in Montgomery County. Nick and Elda Cordone (555 Lounge Owners) are great hosts and welcomed us to the new 555 Lounge. They provided good food and a fun atmosphere as did the whole staff. I look forward to spreading the word on this new location for food and entertainment. I wish them great success," said Colette Releford, President of Strive Business Solutions, LLC.
Below: City of Gaithersburg Economic Development Director Tom Lonergan; Regional Director Montgomery County – Upcounty Region Catherine Matthews; 555 Lounge Owners Elda and Nick Cordone and State Senator Jennie Forehand – District 17 celebrate the grand opening of 555 Lounge in Gaithersburg on September 6, 2013. (l:r).
(Photo credit – Laura Rowles, GGCC Director of Events & Marketing)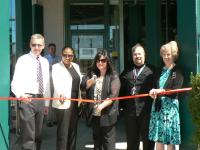 Contact Information:
Gaithersburg-Germantown Chamber of Commerce
http://www.ggchamber.org
Laura Rowles
(301) 840-1400 x14
lrowles@ggchamber.org

The GGCC is active in providing business-to-business networking opportunities throughout the year: a collective voice in local, regional, and state legislative affairs, professional development opportunities and other services that enhance the business environment.
The GGCC is located at 910 Clopper Road, Suite 205N, Gaithersburg, MD. To learn more about the GGCC visit us at www.ggchamber.org.
Find us on Facebook at: http://www.facebook.com/pages/Gaithersburg-Germantown-Chamber-of-Commerce/64339954570. Or on Twitter at: @GGCCNEWS.