GGCC Awards the 8th Annual Small Business of the Year Award
The Gaithersburg-Germantown Chamber (GGCC) awarded Pinky & Pepe Rodgers, Owner of Pinky and Pepe's Grape Escape, as the recipient of the 8th Annual Small Business of the Year Award (SBY) on December 4 as a part of their Annual Celebration Dinner & Awards Ceremony. The award was presented by the previous year's winner Dave Posin of Soldierfit.
The Small Business of the Year Award recognizes small businesses, which are a vital part of our economy and community. The award is presented to the small business that demonstrates success, community involvement, and excellent customer relations.
"We feel so blessed and honored to have received this award", said Pinky Rodgers. "If it wasn't for our incredible community and our hard working team, we would never have made it through these past four years! We are so grateful to the GGCC for giving us so many opportunities to sponsor events! Receiving this award is, without a doubt, the highlight of our efforts. Thank you!  Cheers!"
Pinky & Pepe's Grape Escape, is a wine & beer shop in the Kentlands. Pinky & Pepe's opened with a business plan of being a to-go fine wine and craft beer boutique. After their 1st wine tasting they realized they needed more seating. Now, they host live music, and wine & beer tastings. They have grown from having two part-time employees to two full-time employees and four part-time employees. Pinky & Pepe sponsor the wine for the Chamber's annual wine tasting and have sponsored a Business Networking After Five since its inception. In addition to their involvement with the chamber, they host the following fundraisers every year: Alzheimer's, Avon Breast    Cancer, Operation Second Chance/Wounded Warriors, and Gaithersburg Police Foundation and donate to over 250 organizations, schools, sports clubs and charities.
When asked why they should win the SBY award—They said "we don't say "no" to our community, charities, schools or any organization; we may be viewed as just a beer and wine store, but we do all we can to make sure people always feel welcome and are assisted each and every time they enter our store."
Learn more about Pinky and Pepe's Grape Escape at www.pinkyandpepe.com.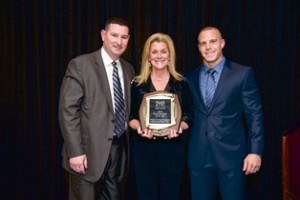 (l:r) Pepe & Pinky Rodgers of Pinky & Pepe's Grape Escape receive the Gaithersburg-Germantown Chamber's 8th Annual Small Business of the Year Award from Dave Posin of Soldierfit.
(Photo Credit: Phil Fabrizio, Sugarloaf Photography by Fabrizio)

The GGCC is active in providing business-to-business networking opportunities throughout the year: a collective voice in local, regional, and state legislative affairs, professional development opportunities and other services that enhance the business environment.
The GGCC is located at 910 Clopper Road, Suite 205N, Gaithersburg, MD. To learn more about the GGCC visit us at www.ggchamber.org.
Find us on Facebook at: http://www.facebook.com/pages/Gaithersburg-Germantown-Chamber-of-Commerce/64339954570. Or on Twitter at: @GGCCNEWS.