GGCC 2014 Board of Directors Inducted
The Gaithersburg-Germantown Chamber of Commerce (GGCC) Board of Directors were inducted on Thursday, December 5. The ceremony was conducted by City of Gaithersburg Mayor Sidney Katz at the Hilton Gaithersburg.
The 2014 GGCC Board of Directors:
Chairman: David Edgerley, Sonabank
Chairman Elect: Jerry Therrien, Therrien Waddell, Inc
Treasurer: Robert Cowdrey, Capital Bank, N.A.
Vice Chairs:
Member Services: Colette Releford, The Gazette
Legislative Affairs: Jerry Pasternak, PEPCO
Member Programs: Anita Anderson, Metropolitan Ballet Theatre and Academy
Economic Development: Stuart Barr, Lerch, Early & Brewer, Chartered
Directors:
Henry Bernstein, Scheer Partners, Inc.
Eileen Cahill, Holy Cross Hospital
John Compton, GeneDx
Howard Covin, Johns Hopkins University
Ron Dimaranan, M&T Bank
Brittany Hilton, Mid-Atlantic Federal Credit Union
Robert Jepson, Shady Grove Adventist Hospital
Tom Lonergan, City of Gaithersburg
Giuseppe Mastroeli, M & T Bank
Kathleen Mayer, OBA Bank
Raymond McKenzie, The Law Office of Raymond T. McKenzie, Esq.
James Muir, Hughes Network Systems, LLC
Sanjay Rai, Montgomery College Germantown Campus
Randy Scritchfield, Randy Scritchfield, CFP®
Ibi Sofillas, MyRealtyTeam Real Estate LLC
Richard Stang, DeLeon & Stang, CPAs & Advisors
Scott Wallace, Linowes and Blocher, LLP
Francine Waters, Lerner Enterprises
Doug Wrenn, Rodgers Consulting, Inc.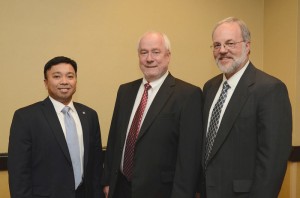 (l:r) GGCC Immediate Past Chairman Ron Dimaranan, M&T Bank; Chairman David Edgerley, Sonabank and Chairman Elect Jerry Therrien, Therrien Waddell, Inc. at the chamber's annual Celebration Dinner and Awards Ceremony on December 5, 2013. Dimaranan, Edgerley and Therrien were all inducted that evening.
(Photo credit – John Keith, John Keith Photography)

The GGCC is active in providing business-to-business networking opportunities throughout the year: a collective voice in local, regional, and state legislative affairs, professional development opportunities and other services that enhance the business environment.
The GGCC is located at 910 Clopper Road, Suite 205N, Gaithersburg, MD. To learn more about the GGCC visit us at www.ggchamber.org.
Find us on Facebook at: http://www.facebook.com/pages/Gaithersburg-Germantown-Chamber-of-Commerce/64339954570. Or on Twitter at: @GGCCNEWS.