Sponsorship Opportunities with The GGCC
Help your business achieve greater visibility and success with the help of the GGCC!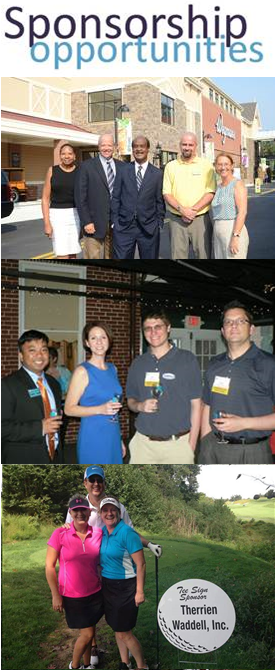 As a Gaithersburg-Germantown Chamber of Commerce sponsor, your company will automatically gain the publicity and brand recognition it needs to compete in today's competitive environment. By sponsoring a Chamber program, your organization will reach local businesses and community leaders who recognize and appreciate companies that help support sound economic development initiatives that create a healthy business climate. Your recognition as a Chamber sponsor within the business community will insure you make those important connections necessary for the future growth and success of your business. Together with our sponsors, we strive to strengthen our business community through quality networking events, informational programs and the ongoing work of an organization dedicated to the business of doing business.
The Chamber offers a variety of valuable sponsorship opportunities to reach business leaders, potential customers & clients:
Corporate Sponsorship
Special Events Sponsorship (e.g., Golf Tournament, GROWTH Seminar, Wine Tasting, Public Safety Awards Breakfast & Celebration Dinner & Awards Ceremony)
Special Events (e.g., Golf Tournament, GROWTH Seminar, Wine Tasting, Public Safety Awards Breakfast & Celebration Dinner & Awards Ceremony)
Monthly Event Sponsorship (e.g., Networking Breakfasts, Power Lunches, Business Activities, Before and After Hours Networking Opportunities)
Event Door Prizes
Contact the Chamber to take advantage of any of these opportunities.
---
Corporate Sponsors
Become a GGCC Corporate Sponsor and take advantage of exclusive benefits hat will enhance and build business relationships. Corporate sponsors receive a full color logo on our Corporate Sponsor page along with text and a link to the sponsor's corporate website. Additional benefits apply. For further details click here or contact us at 301.840.1400.
Special Events Sponsorship
The "Special Events Sponsorship" will be especially attractive to a business interested in company branding or promoting products or services to business leaders who attend special events, but who may not attend monthly networking events. Three special events are included in this sponsorship program. Each sponsor will have the opportunity to distribute company information at the events, one paid seat/ticket to three of our five special events and the company name/logo on the event announcements, etc. Industry type is restricted to one per sector. For further details click here or contact us at 301.840.1400.
Sponsor a Special Events 
The Gaithersburg-Germantown Chamber hosts five special events annually that provide great opportunities to promote and brand your business. These include our GROWTH: Brand, Sales & Marketing Seminar in March, Annual Wine Tasting in May, Public Safety Awards Breakfast in August, Business Golf Classic in September and our Celebration Dinner & Awards Ceremony in December. Sponsorships represent an additional channel for marketing your business brand. Our Sponsorship Opportunities program is professional and yet personal enough to target and reach your market. It is flexible to allow businesses of any size to participate. Please check our events calendar for details on sponsoring these fantastic events.
Monthly Event Sponsorship
The unique one-on-one marketing aspects of our Chamber's events and programs provide companies access to dozens of new clients and customers. Chamber events are also an ideal forum for renewing and strengthening relationships with existing clients and customers. For further details click here or contact us at 301.840.1400.
Event Door Prizes
Door prizes add a little extra touch to our events. Door prizes offer a great way for a business to expose their brand and their products to our members. The GGCC is currently accepting door prizes for all of our member programs. Door prizes should have a minimum value of $20 each and donors will be recognized verbally as the prizes are raffled off during the member program.  Donate a door prize today; contact us at info@ggchamber.org or just bring it with you to the event.